RSNA 2021 Offers Opportunities for Residents & Fellows
Take advantage of the scientific and educational programming created specifically for residents and fellows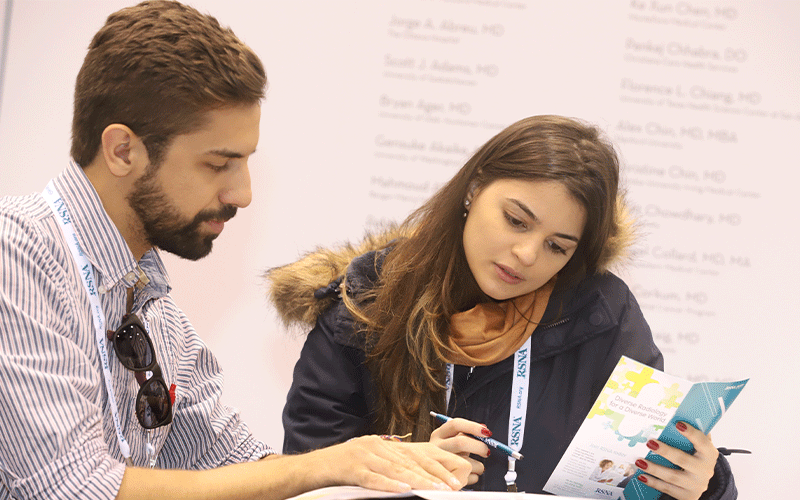 Highlighted by the annual RSNA Resident and Fellow Symposium, the meeting provides networking opportunities to help trainees expand their connections across the specialty.
RSNA Resident and Fellow Symposium
The RSNA Resident & Fellow Symposium, a live, interactive session, will be held Tuesday, Nov. 30, 1:30 to 4:30 p.m. (CT) and will be available on-demand through the Virtual Meeting.
This year's topics include:
• Job Market Update
• How to Evaluate a Job Offer
• Family and Medical Leave
• Personal Finance
• AI Reimbursement
• Career/Practice Panel
Residents Reception
Residents will have a chance to mingle with their peers and network with longtime RSNA members and radiology leaders at this popular event.
Held in conjunction with the American College of Radiology, the reception will be held Tuesday, Nov. 30, from 4:30 to 5:30 p.m. (CT) in the Lakeside Ballroom in the East Building.
Other programming of interest to residents and fellows includes:
Resident Competition
Monday, Nov. 29, 2 - 3:30 p.m.
In this lively competition held in the Discovery Theater, residency program representatives compete head-to-head for the ultimate bragging rights. Moderated by Omer Awan, MD, and Eric England, MD.
NIIC RAD Meet and Greet
Monday, Nov. 29, 2 - 9 a.m.
Interested in learning more about Imaging Informatics? Join faculty and former students of the National Imaging Informatics Course – Radiology (NIIC RAD) for an informal meet and greet in the Residents Lounge.
Education Exhibits
• No Contrast? No Problem! A Resident Primer for C02 Angiography
• Pictorial Storyboard of Uterine Artery Embolization Complications: What Every Radiology Trainee Ought to Know
• Musculoskeletal Emergencies and Urgencies: An On-call Primer
• Give Me a Heads Up! A Primer on Skull Vault Lesions for Radiology Residents on Call
• Joints in Flame, What to Do Next! Primer for Radiology Residents on Inflammatory Arthritis
• Vertebral Anomalies - Potential Cause for Misdiagnosis by Resident: A Multifaceted and Multimodality Imaging Review
• Ectopic Pregnancy: How to Diagnose It and What to Do
• Doppler Ultrasound of Peripheral Vascular Emergencies: A Beginner's Guide to Riding Waves
• Tonight, I'll Be Eating and Reading: A Review of Radiology Food Signs Trauma: A Classification Pocket Guide for Residents
• Interpreting Whole Body MRI in Oncological Imaging: A How-to Guide for the Novice Additional Sessions of Interest
• Humanism in Radiology: Combatting Burnout and Robots (Sponsored by the RSNA Public Information Committee)
• Mentorship, Sponsorship, and Coaching: Not Just for Early Career
• Take Control of Your Workday
• Young Investigators Papers in Cancer Imaging
• Career Planning & Leadership Development
Make Time for Wellness
Whether you are participating in person or online, it's important for all attendees to take frequent breaks to stretch and de-stress. While at McCormick Place, take some time to relax and reflect or practice self-guided yoga in the Zen Zone. You can also join a chair yoga class or enjoy one of the many performances in the Discovery Theater. If attending online, step away from your monitor and step outside for a short walk and a breath of fresh air or meditate in a quiet corner of your home or workplace.
Register to attend RSNA 2021 in person, virtually or both at RSNA.org/Register. For more information, contact customer service at annualmeeting@rsna.org