Educational Courses at RSNA 2021
Select from more than 300 educational courses in a variety of formats across all career levels and subspecialties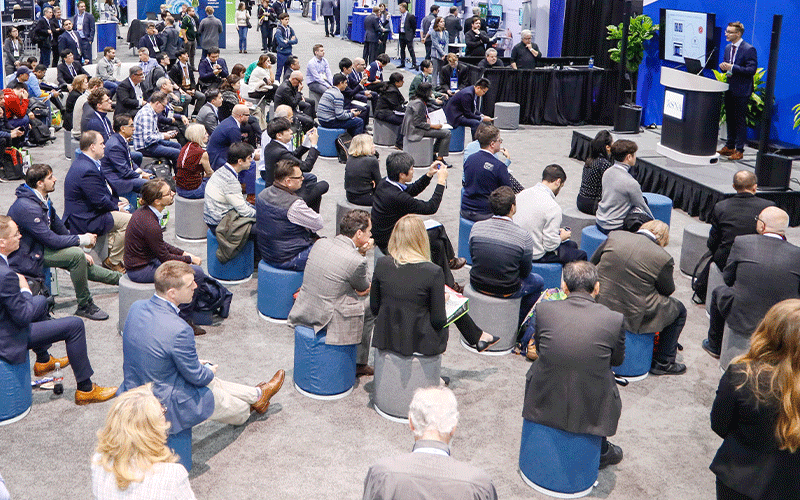 Here is a sampling of courses attendees might want to include in their meeting agenda for the week. Find these and more in the RSNA 2021 Program at Meeting.RSNA.org.
Program Highlights
RSNA 2021 offers unique session formats that allow you to easily identify sessions of interest and attend the meeting at your pace.
Adding the RSNA Virtual Meeting to your registration guarantees that you can attend the meeting at your pace and your convenience, with more than 400 livestreamed and on-demand courses to meet the needs of global attendees.
Fast 5
Five speakers present for five minutes each in these fast-paced presentations. The innovative, non-clinical topics were selected by popular vote. Follow the conversation on social media at #RSNAFast5.
Monday, Nov. 29, 3 – 3:30 p.m. (CT)
Moderator: Sherry S. Wang, MBBS, FRANZCR
Fast 5 speakers and topics:
Julia Shoen, MD, MS
Radiology's Sustainable Future: Tackling Climate Change from the Reading Room
Charlotte Yuk-Yan Chung, MD, PhD
Addressing Imaging Inequality at the Frontline: A Free Imaging Clinic Model for the Underserved
Angel Gomez-Cintron, MD, MPH
The Millennial Transformation of Radiology
Noushin Yahyavi-Firouz-Abadi, MD
Embracing Artificial Intelligence for Mitigating Health Disparities and Achieving Health Equity: Challenges and Opportunities
Elizabeth Dibble, MD
Supporting Family/Medical Leave: Where Are We and Where Do We Go From Here?
Case of the Day
Each day a unique and challenging case is available online for meeting participants to submit answers. The correct answer is revealed the following morning. Answers must be submitted by midnight (CT) on the day the case is available online. Participants who submit the correct answer receive 0.5 AMA PRA Category 1 Credits™.
Educational Courses
RSNA 2021 offers a wide variety of different formats for its educational courses.
Image Interpretation Session
This session is held Monday, Nov. 29, from 3:30 – 5 p.m. (CT) concentrating on a variety of subspecialties.
Traditional Lecture
These sessions cover late-breaking or high-interest topics in a traditional lecture format.
• AI in MSK: What You Need to Know
• Imaging Biomarkers in Non-Alcoholic Fatty Liver Disease
• Molecular Imaging and Targeted Therapy: Prostate Cancer
• Practical Multi-Energy CT in Routine Clinical Practice • GU Specific Diagnostic Classification Systems
• PET/MR Update 2021
• Hiding in Plain Site: Endometriosis
• Artificial Intelligence in Neuroimaging: Where Are We Now?
• Innovating Education During the COVID-19 Pandemic
• The Report of the Future: Interactive Multimedia Reporting
• Whole Body Imaging in Pediatrics
• Impact of COVID-19 on Breast Imaging and Modification of Practice
• Multimodality Lymphatic Imaging: Update, Challenges and Opportunities
• Interventional Oncology: What's New?
• Role of Imaging in Cardio-Oncology
• Forensic Imaging
• Novel Technologies Interventional
• Hot Topics in Emergency Radiology
• Personalized Imaging: From Acquisition to Treatment
Interactive Sessions
These sessions use an interactive audience response software to gather real-time information from attendees.
• Challenges in Pediatric Radiology Workflow
• Addressing Organizational Bias, Opportunity for Allyship and Inclusive Leadership
• Looking Beyond the Hype: A Scientific Perspective on AI in Imaging
• AI Governance
• Medical Imaging and Data Resource Center: A Multi-Society Approach to Advance Research on COVID-19 and Other Diseases
Hands-On
These sessions provide attendees the opportunity to be hands-on with a variety of technology.
• Data Sharing and Patient Privacy in the World of AI
• How Does AI in Medical Imaging Work? Learn by Creating Your Own Model
Case-Based
These case-based sessions highlight topics using images and discussion about cases of particular interest.
• Cardiovascular Imaging Manifestations of COVID-19: What the Radiologist Needs to Know
• Solving Your AI Roadmap Gaps: A Case-Based Approach and Test of Your Knowledge
• Advanced Pediatric CT Techniques
Corporate Programming
The Industry Presentations at RSNA 2021 allow attendees to explore cutting-edge products, services and solutions to enhance patient care, streamline operations and learn how to navigate today's health care landscape.
Each day includes a robust schedule of in-person and virtual industry-related events. Sessions are 60 minutes and start at specific times within the block:
• Virtual Pre-Show Presentations: 7 – 8 a.m. (CT)
• Morning Corporate Symposiums: 8 a.m. – noon (CT)
• Virtual Product Theater Morning Presentations: 9 – 11 a.m. (CT)
• Lunch & Learns: 11:45 a.m. – 12:45 p.m. and 12:15 – 1:15 p.m. (CT)
• Afternoon Corporate Symposiums: 1 – 4 p.m. (CT)
View presenting companies and session schedule at Meeting.RSNA.org.
In addition, Vendor Workshops are held 10 a.m. – 5 p.m., Sunday through Wednesday. Located in North Hall B, Level 3, these workshops offer user training and product instruction in a classroom space to provide attendees with first-hand experience on an exhibiting company's proprietary systems.
Professional Development
ACCME Accreditation Statement
The Radiological Society of North America (RSNA) is accredited by the Accreditation Council for Continuing Medical Education (ACCME) to provide continuing medical education for physicians.
AMA Credit Designation Statement
RSNA designates this Other activity (blended live and enduring material) for a maximum of 465 AMA PRA Category 1 Credits™. Physicians should claim only the credit commensurate with the extent of their participation in the activity.
The RSNA 2021 credit claim site is designed for self-service. All registrants, except for ARRT, will be able to review credit and adjust credit for education sessions attended, complete session evaluations, and print and save credit certificate or record of attendance at any time.
Virtual and hybrid registrants can maintain extended access beyond the week of the live meeting, through April 30, 2022, to view sessions and earn additional on-demand credits. After April 30, 2022, no additional revisions to transcripts will be allowed; however, attendees will maintain access to the credit claiming site through April 30, 2023, in order to print their CME certificate or Record of Attendance.
RSNA 2021 will offer A+/A ARRT credit. In order to record and obtain A+/A continuing education (CE) credits, all ARRT-registered radiologic technologists and radiologist assistants must follow ARRT guidelines, including being present for 50 minutes of every scheduled hour of a live CE activity, checking in and out with your badge from each educational session and evaluating your RSNA 2021 courses online at Meeting.RSNA.org. There will be no ARRT credit for attending virtual or on-demand sessions.
RSNA 2021 does not offer Self-Assessment Modules (SAMs). Members are encouraged to visit RSNA's Online Learning Center for opportunities to complete SA-CME credit throughout the year.