Stop by the RSNA Connections Center
Visit to learn about RSNA services, get answers to your questions or enjoy a moment of calm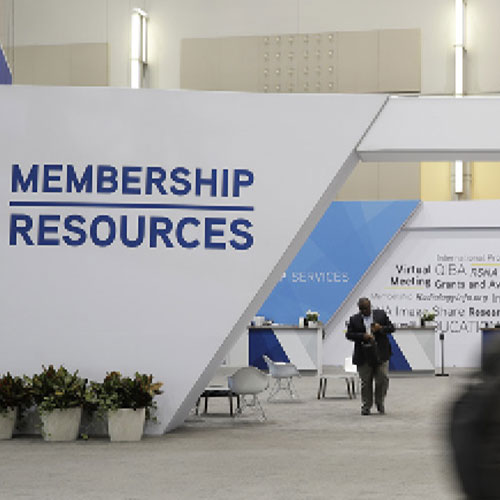 Located in Lakeside Center East, Level 3, the Connections Center offers comfortable seating and tables equipped with chargers for your devices. You'll also find staff on hand to answer your questions about the meeting and RSNA services and a full schedule of entertainment and educational presentations.
Information Desk
RSNA staff will be on hand at the Information Desk to answer your questions about RSNA 2021. Shop RSNA merchandise here, including hats, plush toys, key chains and, of course, face masks.
Membership & Resources
Get answers to your questions about RSNA membership benefits and services including:
• Career Connect
• Image Wisely®
• Informatics products
• International programs
• Journal subscriptions
• Membership renewals and payments
• Online Education
• Radiology Cares®: The Art of Patient-Centered Practice
• RadiologyInfo.org®
• Virtual Meeting
Ribbon Pick Up
The self-serve ribbon wall is located in the Connections Center.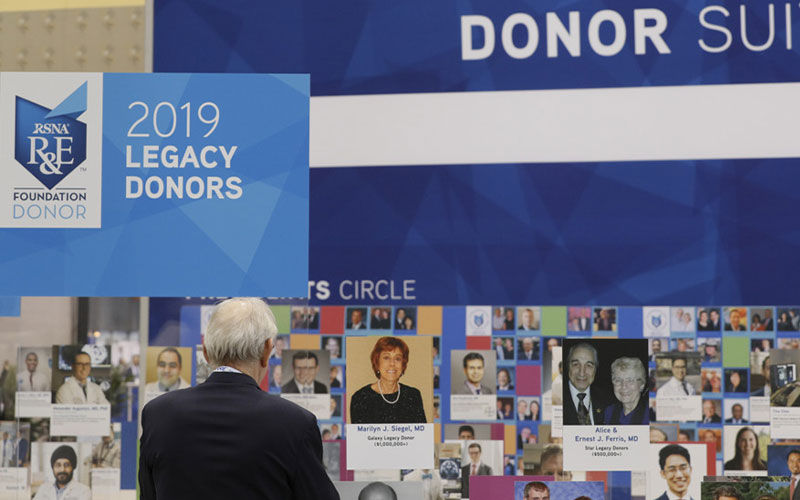 R&E Booth and Donor Suite
Learn more about R&E Foundation activities, including current grant and award recipients and individual, private practice and corporate donors. Donors who have contributed at least $300 onsite or during the giving year may visit the exclusive Donor Suite for access to computers, a coat room, cozy seating and light refreshments.
"I Am Redefining Radiology" Selfie Station
Capture memories of your RSNA 2021 experience and embrace this year's theme. Stop and take a selfie at this interactive space in the Membership & Resources area and show your colleagues how you are redefining radiology. Share your picture over social media using #RSNA21.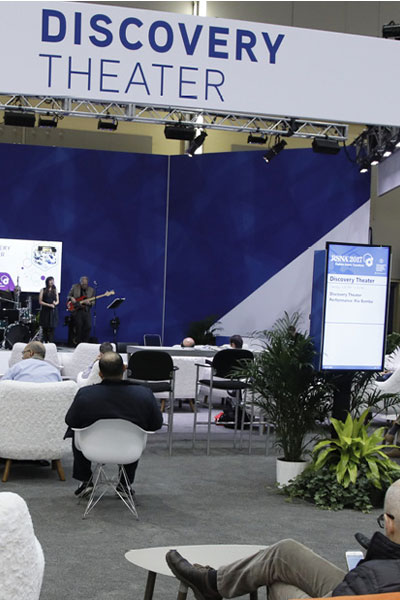 Discovery Theater Featured Entertainment and Education
During the meeting, the Discovery Theater will host live entertainment and informative programming. Relax and unwind with a spectrum of performances from diverse entertainers. Presentations include updates from Image Wisely®, a presentation from the RadioGraphics podcast editors, and information about publishing in RSNA journals. Don't miss the popular Resident Competition. Take a break for chair yoga or a wellness talk. View the full schedule at RSNA.org/Annual-Meeting.
Discovery Theater Performances
Sunday
Nine Worlds Ensemble Noon
Steel Drums 1 p.m.
Surabhi Ensemble 3 p.m.
Monday
Lynx Project 9 a.m.
Jim Perona, Acoustic Artist 10 a.m.
Frank Russel Band Noon
Tuesday
Lynx Project 9 a.m.
Midtown Strings Noon
Wednesday
Guitarra Azul Noon