R&E Foundation Grant Recipients to Present Research on Health Disparities at RSNA 2021
Early career radiologists learn from grant experience and grow into meeting presenters
BY MELISSA SILVERBERG
November 05, 2021
---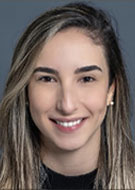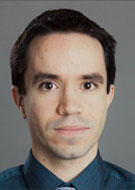 ---
Among those presenting research at RSNA 2021: Redefining Radiology, will be several recipients of RSNA R&E Foundation grants who used their funding to support their projects and then expand their research. Several researchers are focused on better understanding health disparities and how radiology can work to close those gaps in the future.
Disparities in Women's Health
Patricia Balthazar, MD, assistant professor of radiology and imaging sciences at Emory University School of Medicine, Atlanta, will present two posters on mammography screening and disparities impacting access to care. Dr. Balthazar received the 2017 RSNA Research Resident Grant.
One of her RSNA 2021 posters, Online Patient Portals Widen Health Disparities In Radiology: Analysis Of Patient Characteristics Of Self-scheduled Online Patient Portal Screening Mammography, studies the potential sociodemographic disparities in utilization of an online patient portal to self-schedule screening mammography as opposed to a traditional scheduling pathway – scheduler phone call and referral system.
Dr. Balthazar's team studied 46,083 patients who underwent screening mammography in 2019, of which only 302 used the online self-scheduling portal. Patients who self-scheduled were more likely younger, English speakers, White Non-Hispanic, had commercial insurance and lived in zip codes with greater access to a computer with internet access.
Her other poster, Women Utilizing Computers For Healthcare Tasks Are More Likely To Undergo Breast Cancer Screening: Digital Divide Widening Healthcare Disparities, aims to identify what patient characteristics were associated with utilizing computers to schedule an appointment with a health care provider and if those patients are more likely to then schedule a screening mammography.
In that research, the team conducted a retrospective analysis of female respondents aged 40-74 years without history of breast cancer using the 2018 National Health Interview Survey, a large publicly available cross-sectional survey database representative of the non-institutionalized, civilian, United States population. It compared sociodemographic characteristics of survey respondents who reported using a computer to schedule an appointment with a health care provider, with respondents who did not.
Among 6,511 women, 1,100 or 18.6% reported using a computer to schedule an appointment with a health care provider. These women were more frequently younger, White, from a higher mean income household, more educated, married, insured and employed. Those respondents who scheduled and received a mammography were also more likely to complete other online health care-related tasks, such as fill a prescription, schedule an appointment with a health care provider and communicate with a health care provider by email.
Both projects showed that reliance on digital health technology may exacerbate health disparities, according to Dr. Balthazar.
"We have to start thinking beyond just good intentions when evaluating new technologies. It is our responsibility to promote health equity. Understanding the impact of social determinants of health, historical inequities, systemic racism and the digital divide will help us inform policy to level the playing field," she said.
Staging of Rectal Disease Affected by Disparities
Jessica Colin Escobar, medical student at the University of California-Irvine, is the recipient of the 2021 RSNA Research Medical Student Grant. She will present her research poster, Health Disparities In Systemic Staging Of Rectal Cancer, which assesses disparities based on race, ethnicity, insurance coverage and socioeconomic status.
Her research reviewed 358 consecutive rectal adenocarcinoma cases at a high volume colorectal academic institution from 2013 to 2019. The review found that patients with a lower socioeconomic status had a lower rate of completing systemic staging. These patients did not have any chest imaging or chest radiographs, which have lower sensitivity compared to chest CT in the detection of pulmonary metastasis. In addition, patients of races other than non-Hispanic White experienced longer time intervals between diagnosis and staging.
"Health disparity in initial systemic staging rectal cancer, associated with minority race/ethnicity, lower socioeconomic status and inadequate insurance coverage, is a gap that needs to be addressed in order to achieve health equity and improved population outcome," Escobar said.
Follow-Up For Incidental Pulmonary Nodules Can Be Affected by Socioeconomic Demographics
Eduardo J. Mortani Barbosa Jr., MD, assistant professor of radiology at the University of Pennsylvania, Philadelphia, is the recipient of the 2017 Fujifilm Medical Systems/RSNA Research Seed Grant, and will present a poster entitled, Demographic, Socioeconomic Status (SES) And Nodule Risk Can Accurately Predict Adherence To Follow Up Of Incidental Pulmonary Nodules.
His research assessed incidental pulmonary nodules (IPNs), which are commonly found in chest imaging, and developed statistical predictive models to understand what factors can negatively affect their follow-up.
Dr. Barbosa and his team reviewed electronic medical records and U.S. Census data for 1,843 patients diagnosed with IPNs in a tertiary healthcare system in 2016 and examined their follow-up adherence until 2019. They collected variables including demographics (such as age, sex, race, employment, mean income and education), clinical context and nodule characteristics.
They identified six variables that were statistically significant predictors of patient non-adherence or those less likely to obtain adequate follow up of IPNs. These included a patient being African-American, unemployed, a current smoker, being seen in the emergency department or as an inpatient, having Medicaid or no insurance, and having smaller nodules.
Dr. Barbosa said this research has important public health implications.
"Demographics, racial, ethnic, and socioeconomic factors, combined, are important predictors of patient adherence and therefore should be mindfully considered when designing changes to improve patient level and societal outcomes," he said. "I truly believe that as academic physicians and scientists, we have unique opportunities to become leaders in healthcare and health services research, not only fighting disease and suffering, but also striving to make the health system more sustainable and accessible to our entire society."
R&E Foundation Grants Offer a Path to Success
All three of the grant recipients identify their grants as helping them grow as academic researchers and identify topics that will hopefully improve the delivery of health care and patient care.
"The R&E Foundation grant was critical to quick-start my career as a health services researcher and I continue to build upon the work I started as a trainee," Dr. Balthazar said. "My grant project exposed me early in training to health equity and disparities research, an important field that more recently reached the spotlight during the COVID-19 pandemic."
"I am passionate about addressing health disparities and the R&E Foundation grant allowed me to fully devote my time to pursue research relevant to the communities I wish to serve," Escobar said. "I intend to use the skills learned throughout this project to eventually become an academic surgeon who is an effective leader involved in steering health care policy and management decisions."
Dr. Barbosa says that the R&E Foundation grants have multiplicative effects, well above their scope.
"My RSNA R&E Foundation grant is a topic of active and ongoing research for me, with great potential to positively impact the diagnosis, management and prognosis of patients with interstitial lung diseases or ILDs," Dr. Barbosa said. "While focused on ILDs, it had a significant impact into my development as an academic radiologist and researcher as it fits into my greater scheme of utilizing artificial intelligence algorithms in functional and quantitative imaging, with the goals of improving diagnosis and prognostication, beyond ILDs. I have leveraged this research framework to make contributions in other diseases, such as COVID-19."
For More Information
Learn more about R&E Funding Opportunities.
Read the RSNA News story featuring RSNA 2020 presenters who were previous R&E grant recipients: