Member Spotlight: Sherry S. Wang, MBBS, FRANZCR
Learn more about a fellow RSNA member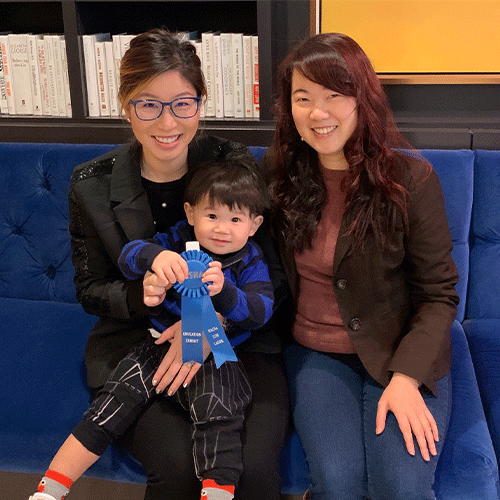 Sherry S. Wang, MBBS, FRANZCR, is an assistant professor of radiology and imaging sciences at the University of Utah, Salt Lake City.
Dr. Wang is an assistant editor of genitourinary imaging for the RSNA Case Collection. She is the RSNA 2021 Fast 5 moderator. She previously participated in the RSNA 2019 Fast 5 and received an RSNA 2019 magna cum laude for an education exhibit with her siblings –Lily Wang, MD, assistant professor of radiology at UC Health, Cincinnati and David Wang, MBBS, private practice radiologist in Melbourne, Australia.
1. What or who sparked your interest in radiology?
I was first interested and introduced to radiology through my older sister, who is also a radiologist – Dr. Lily Wang. She is a neuroradiologist at the University of Cincinnati. When she was in radiology residency training in Australia, I saw how happy she was and how much she enjoyed work every day, and this made me want to know more about radiology. I subsequently fell in love with this specialty myself! A year after I started, my younger brother also decided to go into radiology.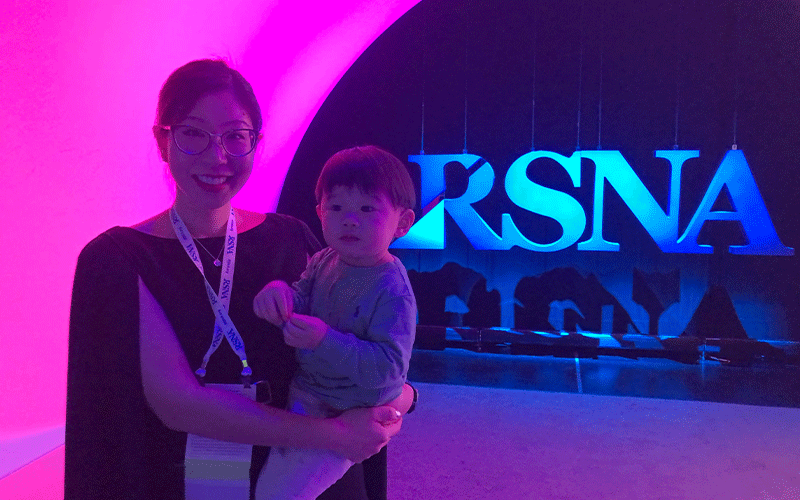 2. What has been the best professional accomplishment in your career?
This would be my RSNA 2019 Fast 5 talk on "Child Care Services and Women in Radiology." This platform helped me spotlight an issue that aligned with my own personal core beliefs and goals.
I remember when I finished my talk that day and was wandering around RSNA with my husband and our baby, an older female radiologist came up to me and said, "We don't know each other, but I want to thank you for everything you said up there. You spoke for all of us and what we have felt." To me that is something very special, and I will always remember that moment, to really be able to connect with other radiologists.
After my Fast 5 presentation, I thought it was important to not just talk the talk, but also walk the walk. I approached Dr. Mary Mahoney (currently RSNA president) about offering grants for childcare at the RSNA annual meeting. Much to my delight, the RSNA Board of Directors went far beyond my proposal by making Camp RSNA free for members. This speaks volumes regarding the leadership of Dr. Mahoney and the Board of Directors at RSNA – they are willing to walk the walk and find solutions to hurdles.
(Editor's Note: Camp RSNA is the onsite childcare service offered during the annual meeting. Since 1997, Camp RSNA has been providing active and creative experiences for children, ages six months to 12 years, while their parent or caregiver attends the annual meeting.)
3. What do you think is the biggest challenge facing radiology in the coming years?
One of the biggest challenges I believe is managing the intergenerational workforce around digital transformation. Radiology is a very technologically advanced specialty, but what COVID-19 has really shown us that there is a generational divide in the ease of use and adaptability of technology in the dissemination of information, radiology education and engagement.
4. What RSNA resources do you use/have you used to assist you with your professional development and in your daily practice?
The RSNA annual meeting is one of the highlights on my professional calendar. There is so much learning available. I also like the engagement between RSNA and its members, as well as between members. I do not see it as a place to network, but a place where true friendship and collaboration can be formed. I also use a lot of the RSNA courses online for specific CME. As for my daily practice as a clinical track radiologist, RadioGraphics is invaluable.
5. When you're not working, how do you like to spend your free time?
I usually try to spend as much time as I can with my son and husband, and they prove to be my burnout busters! I have also started writing and illustrating children's books, mainly because my child likes them.
For More Information
Keep up to date on RSNA member achievements, moves and news by visiting RSNA.org/News/Announcements/Member-Updates.