Your Donations in Action: Salil Soman, MD
Improving intracranial hemorrhage risk stratification with advanced cerebral microhemorrhage imaging
---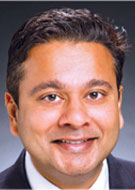 ---
Cerebral microbleeds (CMBs) are intracranial bleeds less than 1 cm. Their presence is associated with increased initial and recurrent intracranial hemorrhage (ICH) and ischemic events, recurrent ICH in patients with prior lobar ICH on anticoagulation therapy, and increased ICH risk in ischemic stroke patients on thrombolytic therapy.
However, variability in CMB assessment among neuroimaging methods makes it difficult to apply this information clinically. CT will show many ICHs, but not likely CMBs. Non-quantitative susceptibility-based MRI techniques such as susceptibility weighted imaging (SWI) are more sensitive for CMB than CT. However, these MRI methods will yield variable CMB depictions that are dependent on MRI scan parameters and field strength and require additional images to distinguish blood from calcification.
Quantitative susceptibility mapping (QSM) methods do not have these issues and can be performed using all imaging platforms in clinically feasible scan time. However, most are mask based (mQSM), which research has shown may not depict some CMBs due to mask induced non-visualized brain.
In his 2018 RSNA Research Scholar Grant, Salil Soman, MD, assistant professor of radiology at Harvard Medical School and neuroradiologist at Beth Israel Deaconess Medical Center, both in Boston, and his colleagues demonstrated that preconditioned QSM (pQSM) has all the benefits of mQSM, while avoiding mask related problems, suggesting it may be the most robust method for adding CMB assessment to clinical care.
Dr. Soman created a patient cohort with both acute ICHs documented on noncontrast head CT and complex susceptibility-based brain MRI imaging to enable reader studies comparing advanced and commonly used susceptibility-based neuroimaging techniques for reader identification of CMBs. This dataset is now being used in his NIH funded reader study to compare reader CMB identification and their mimics using pQSM and SWI.
"The results of this study will determine the ability of pQSM to characterize CMBs clinically for evaluating diseases such as traumatic brain injury (TBI), amyloid related imaging abnormalities (ARIA) and amyloid angiopathy relative to widely used SWI techniques," Dr. Soman said.
Dr. Soman also recognized the assistance that the R&E Foundation grant provided.
"The protected time and recognition that the R&E Foundation scholar grant provided were central to my ability to collect data, attract students, engage mentors and pursue scientific questions related to susceptibility-based neuroimaging," Dr. Soman said. "The data collected through this award plus the mentorship provided through the scholar grant program and the RSNA Advanced Course in Grant Writing were critical to securing my current grant from National Institute of Neurological Disorders and Stroke to study CMB detection using QSM based and SWI techniques."
For More Information
Learn more about R&E Funding Opportunities.
Read last month's Your Donations in Action article.