Radiology Informatics Leader Helps Transform COVID-19 Testing, Diagnosis
Krishna Juluru, MD, is contributing to the pandemic response as a 2021 Presidential Innovation Fellow
BY JENNIE MCKEE
August 18, 2021
---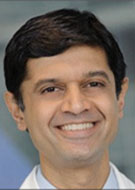 ---
Krishna Juluru, MD, a radiologist, physician-scientist and director of radiology informatics at Memorial Sloan Kettering in New York, was selected as a 2021 Presidential Innovation Fellow (PIF) to help advance digital solutions in COVID-19 testing and diagnosis.
Dr. Juluru, who serves on the RSNA Radiology Informatics Committee, has experience leading teams that use technology to improve efficiency and performance while delivering high-quality care at health care organizations. He is using his expertise in health care informatics and artificial intelligence (AI) to help develop innovative ways to make COVID-19 testing and diagnosis easier and more accessible.
National Program Tackles Complex Challenges
Launched by the White House Office of Science and Technology Policy in 2012, the PIF program pairs industry and federal leaders together to develop solutions to some of the nation's biggest issues. The class of 2021 brings together 34 data scientists, engineers, designers and entrepreneurs who collaborate with 22 federal agency partners on issues of national priority.
"A few past PIFs have been physicians, but in our cohort, most fellows come from other industries — from big tech to start-ups — and now serve in agencies ranging from the U.S. Department of State to the National Aeronautics and Space Administration," Dr. Juluru said.
As a PIF, Dr. Juluru is currently detailed to the Director of the National Institute of Biomedical Imaging and Bioengineering at the National Institutes of Health. He collaborates closely with teams at institutions ranging from the Centers for Disease Control and Prevention to members of private industry and non-profit organizations.
RADx and COVID-19 Diagnostics
Not long after the pandemic took hold, the U.S. Congress funded the program Rapid Acceleration of Diagnostics, or RADx.
"As the name implies, the goal was to dramatically increase testing capacity in the United States," Dr. Juluru said. "Digital health tools play a key role in this effort by improving the accessibility and usability of new testing technologies and in enabling them to communicate with public health systems to promote a coordinated response."
Dr. Juluru's extensive informatics experience makes him a valuable contributor to RADx, a program that has introduced new concepts of health care technology incubation through government leadership and support.
"Informatics has many touchpoints in health care," he said. "Health care data reside in many systems and in many forms. By helping to connect these systems with a focus on standards-based methodologies, information models and terminologies, informatics helps improve patient care and research."
Among other initiatives, RADx supports research into point-of-care and at-home diagnostics that empower patients to conduct and interpret tests on their own.
"This represents an important paradigm shift from traditional models of hospital and free-standing lab diagnostics," Dr. Juluru said.
Testing the potential of ever-evolving advances in AI to expand and improve patient care is critical to Dr. Juluru's research.
"In my current role as a PIF, my team has explored ways to train AI models to interpret results from a type of at-home diagnostic test known as 'lateral flow assay' using the camera on a mobile device," Dr. Juluru said.
"We have the opportunity to provide reassurance to patients that they have interpreted tests correctly, and to provide validation to public health systems to ensure that data are collected with high fidelity," he added.
Health care's rapid response to COVID has broken new ground that will drive advancements in informatics and health care as a whole for years to come, Dr. Juluru said.
"Through the pandemic response efforts, we are, in rapid iterations, learning how diagnostics can be delivered in these new settings, and how we can integrate technologies with established health care infrastructures," Dr. Juluru said. "This involves not only the chemistry of the tests, but also the digital tools that will guide their use."
"The lessons we are learning from COVID will inform health care well beyond the pandemic," he added.
For More Information
Learn more about the Presidential Innovation Fellow program at presidentialinnovationfellows.gov
Read previous RSNA News stories on informatics: