RSNA 2020 President's Address
One World, One Radiology Community — A Vision for Tomorrow
Sunday, Nov. 29, 11 a.m. CT
---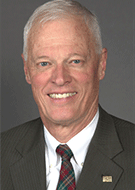 ---
A diagnostic radiologist and expert on health policy, James P. Borgstede, MD, is RSNA president and a professor of radiology at University of Colorado in Denver.
In his President's Address, Dr. Borgstede will discuss the responsibility of all radiologists to collaborate worldwide to ensure equal access to health care for all, regardless of where they live or seek care. The highly resourced world of radiology inventions, products and professionalism are conduits for health care improvement worldwide, he says. These conduits connect our radiology community domestically and across the globe.
"We in radiology are fortunate to have so many advantages that can make us a worldwide specialty," Dr. Borgstede said. "We need to put to work the power and potential of our professional and technical resources to close the gap in the quality of care across the world."
Dr. Borgstede serves as vice chair of professional services, clinical operations, quality and safety for the Department of Radiology at the University of Colorado. He received his medical degree from the University of Illinois, Chicago, and completed his residency at the University of Colorado Health Sciences Center in Denver.
Recognized in 2019 as an RSNA Honored Educator, Dr. Borgstede has delivered scientific presentations and refresher courses, participated in symposiums, and was co-presenter in 2005 of a special focus session, "The Diffusion of Imaging and Peril of Inappropriate Utilization," during the RSNA annual meeting. He delivered the 2017 RSNA Opening Plenary Lecture. He has lectured at more than 120 meetings worldwide.
An RSNA member since 1976, Dr. Borgstede joined the RSNA Board of Directors in 2013 as the board liaison for the International Advisory Committee and the Committee on International Radiology Education and was chair of the Board Committee on International Affairs. He has also served in leadership roles in the RSNA Research & Education (R&E) Foundation, including as a chair of the R&E Foundation Board of Trustees in 2014, and as a member of the Corporate Giving Subcommittee and the Finance Committee.
From 2004 to 2008, Dr. Borgstede was on the editorial board of the Journal of the American College of Radiology, where he currently serves as a reviewer. Since 2004, he has served on the editorial advisory board of American Family Physician.
Dr. Borgstede's leadership in radiology includes serving as president of the International Society of Radiology from 2014 to 2016. He was chairman of the Board of Chancellors and a past president of the American College of Radiology (ACR). He served on the ACR Committee on International Service, with which he traveled multiple times to Grace Children's Hospital Port-au-Prince as part of the Haiti Radiology Project. He is a member of the Colorado Radiological Society (CRS), El Paso County Medical Society, Rocky Mountain Radiological Society and the Society of Radiologists in Ultrasound.
Renowned for his contributions to the specialty, Dr. Borgstede has received the gold medal and the William T. Thorwarth Award for Excellence in Economics and Health Policy from ACR. He received service awards from CRS and was the first CRS gold medalist. He is a recipient of the University of Colorado Hospital President's Award for Leadership, and in 2019 he was awarded a Presidential Citation for Meritorious Service, recognizing his outstanding contributions to organizational performance improvement, patient safety and clinical outcomes at the hospital.