RSNA 2020 Opening Session
The Power of Radiology to Drive Collective Action and Transform Global Health
Sunday, Nov. 29, 11 a.m. CT
---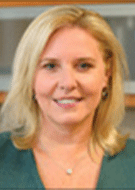 ---
Kristen K. DeStigter, MD, an internationally recognized authority on the use of ultrasound in rural medicine, says that in order to improve access to integrated high quality imaging services in low resource areas, it is our moral obligation to convene effective partnerships with multipronged approaches that improve equitable access to radiology services.
In her lecture, Dr. DeStigter will discuss the opportunity for the radiology community to engage in cross-sector partnerships to affect change and transform global health.
Dr. DeStigter is a renowned educator, leader, mentor and health advocate. She is the John P. and Kathryn H. Tampas Green and Gold Professor and chair of the Department of Radiology at the Larner College of Medicine at the University of Vermont (UVM) and the Radiology Health Care Service chief for the UVM Health Network.
Dr. DeStigter's scholarly interests include unique applications of ultrasound in rural medicine, the provision of integrated medical imaging services in underserved communities, medical education in diagnostic radiology and global advances in women's health care. She is the co-founder and president of Imaging the World, a nonprofit organization that integrates ultrasound diagnosis into rural health care systems and facilities in Uganda and Malawi.
Dr. DeStigter is a past president of the Association of Program Directors in Radiology (APDR) and a past president of the Vermont Radiological Society. She is a past chair of the RSNA Committee on International Radiology Education (CIRE) and a member of the RSNA Education Committee. She is a member of the ACR Foundation's International Outreach Committee, and also served as a member of the World Health Organization Referral Guidelines Development Group as part of the International Radiology Quality Network. She is the incoming chair of the Association of University Radiologists International Relations Committee. She is a member of the executive committee of the Lancet Commission on Diagnostics.
Dr. DeStigter received the ACR Foundation 2016 Global Humanitarian Award. She was named RSNA Outstanding Educator in 2016, and she recently received the 2020 APDR Achievement Award.