RSNA 2020 Honorary Member
---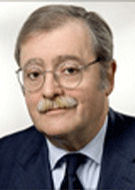 ---
A recognized leader and pioneer in the use of Doppler ultrasound to image the genitourinary system, Lorenzo E. Derchi, MD, is the chair of Emergency Radiology at San Martino Hospital, Genoa, Italy.
Dr. Derchi received his medical degree from the University of Genoa. He joined San Martino Hospital as staff radiologist after becoming board certified. In 1994, he became chair of a radiology unit at the hospital and ascended to professor at the Faculty of Medicine, University of Genoa. From 2004 to 2011 he served as chair of the Department of Radiology at the hospital before accepting his current appointment as chair of Emergency Radiology.
An esteemed educator, Dr. Derchi instills a passion for radiology in his students. He has published over 200 articles, and several chapters in international and Italian textbooks. He also authored the Genitourinary Ultrasound issue of Ultrasound Clinics. His interests include the genitourinary system with an emphasis on renal and testicular disease. He served eight years on the written examination committee for the European Board of Radiology.
Dr. Derchi has been a leading figure in the European radiology community since early in his career. He served as a member of the board of directors of the Italian Society of Radiology (SIRM) and is a past president of the SIRM US section. In 1992 he was a member of the SIRM Congress organizing committee. A past president of the European Society of Urogenital Radiology and the Italian Society of Ultrasound in Medicine and Biology, Dr. Derchi helped shape the growth of the subspecialty societies.
Over the past decade, Dr. Derchi has helped guide and expand the European Society of Radiology (ESR) as a member of the ESR Executive Council from 2011 to 2016, then as president and board chair. As program planning committee chair for the European Congress of Radiology (ECR), Dr. Derchi oversaw the five-year anniversary celebration of EuroSafe Imaging at ECR 2019. The safety campaign raises awareness about radiation protection in medical imaging. Previously, he co-chaired the ECR Categorical Course on Ultrasound and ECR hands-on workshops on musculoskeletal US and chaired the ECR Categorical Course in Urogenital Radiology.
Widely recognized for his achievements in the specialty, Dr. Derchi is an honorary member of the National Radiological Societies of Algeria, France, Iran, Israel, Romania, Turkey and of the Romanian Society of Ultrasound in Medicine and Biology.