---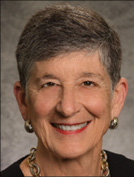 ---
An acclaimed educator and leader, Kay H. Vydareny, MD, devoted her career to advancing medical education and mentoring medical students and radiology residents. Her considerable efforts over the years have touched the lives of residents and program directors around the country.
A native of Chicago, Dr. Vydareny received her undergraduate degree from Smith College in Massachusetts and her medical degree from the University of Michigan. Following an internship at Blodgett Memorial Medical Center in Grand Rapids, MI, she completed her residency in diagnostic radiology at Grand Rapids Area Medical Education Consortium, which serves as the Michigan State University (MSU) College of Human Medicine's Grand Rapids campus.
Beginning her career at MSU, Dr. Vydareny rose to assistant professor and also served as associate program director for the radiology residency program. She then became an assistant professor in the Department of Radiology at the University of Michigan, where she remained until 1991. She left Michigan to join the faculty at Emory University in Atlanta. At Emory, she rose from associate to full professor in diagnostic radiology. She was the associate director of Emory's radiology residency program and later became the director of Medical Student Education. Dr. Vydareny retired from clinical practice in 2010.
As a thoracic radiologist, Dr. Vydareny's interests lie in the clinical and radiologic evaluation of cardiothoracic disease, particularly early lung cancer detection. She served as Emory's site principal investigator for the National Lung Screening Trial from 2002 to 2011. She is also interested in medical education, particularly medical student and radiology resident education, certification and testing.
Widely respected for her insights and contributions to radiology, Dr. Vydareny is a past president of numerous organizations including The American Association for Women Radiologists (AAWR), American Roentgen Ray Society (ARRS), the American College of Radiology (ACR) and the Association of University Radiologists (AUR).
She served as a manuscript reviewer for Radiology, where three times she earned the Editor's Recognition Award. She was a member of and chaired the RSNA General Radiology Program Subcommittee for the RSNA annual meeting and moderated the Sunday night film panel in 1987. Dr. Vydareny served the American Board of Radiology (ABR) as associate executive director for Diagnostic Radiology and the Subspecialties from 2008-2017. She also had significant roles at the Accreditation Council for Graduate Medical Education (ACGME), chairing the Radiology Residency Review Committee and the first Milestone Committee for Diagnostic Radiology. She has served the ACGME-International (ACGME-I) as a site visitor for several programs and is currently a member and vice chair of the ACGME-I review committee for surgical and hospital-based specialties.
Dr. Vydareny's many prestigious awards include gold medals from the AUR, ARRS and ACR. She was selected as co-recipient of the 2015 Achievement Award by the Association of Program Directors in Radiology, which has also awarded her honorary membership. AAWR recognized her outstanding contribution to the advancement of women in radiology and radiation oncology with the Marie Sklodowska-Curie Award. In 2013, Dr. Vydareny received the Women First Award from Emory School of Medicine.
Revered for her generosity and ability to make the most complex concepts understood, Dr. Vydareny was twice selected by Emory medical students for the Outstanding Teacher award, and RSNA presented her with the 2015 Outstanding Educator award.