William T. Thorwarth Jr., MD
---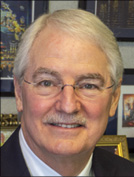 ---
William T. Thorwarth Jr., MD, is a distinguished leader in the radiology community with expertise in economics and health policy who has helped bring patient-centered care to the forefront of the specialty.
As Chief Executive Officer of the American College of Radiology (ACR) since 2014, Dr. Thorwarth has helped shape radiology's transition to value-based care. He previously established himself as a renowned diagnostic and interventional radiologist through a 30-year career at Catawba Radiological Associates in Hickory, NC. During that time, he also served on the board of directors of the Frye Regional Medical Center, including as chair in 1995.
Dr. Thorwarth received his medical degree from Geisel School of Medicine at Dartmouth in Hanover, NH. He completed an internal medicine internship and a junior resident year at the Milton S. Hershey Medical Center in Hershey, PA, followed by a diagnostic radiology residency at the University of North Carolina (UNC) School of Medicine. He began his career as an emergency room physician in New Bern, NC, where he developed a solid background in clinical medicine and deep insight into how to best communicate with referring physicians.
A dedicated contributor to organized radiology, Dr. Thorwarth served on the RSNA Board of Directors and the R&E Foundation Board of Trustees. During his tenure as RSNA Board liaison for publications and communications, Dr. Thorwarth worked with the RSNA-ACR Public Information Website Committee to develop and expand RadiologyInfo.org, the patient information website jointly produced by RSNA and ACR.
Dr. Thorwarth is a past president of ACR and served as chair of the ACR Economics Commission and as a member of the ACR Board of Chancellors. He is currently a member of the Journal of the American College of Radiology editorial board. Working across specialties, he is the chair of the Specialty Society CEO Coalition and secretary-treasurer of the Council of Medical Specialty Societies Board of Directors.
Recognized as an expert in medical coding and nomenclature, Dr. Thorwarth was a member of the American Medical Association Current Procedural Terminology (CPT®) Editorial Panel for 12 years, serving as chair from 2007 to 2011.
Dr. Thorwarth was inducted into the North Carolina Order of the Long Leaf Pine in 2017 for his dedication to patients, teaching future physicians and improving health care. The award is the highest honor recognizing citizens for service to the state.
The William T. Thorwarth, Jr., MD, Award, which honors ACR members and staff who demonstrate excellence in economics and health policy, was established in 2004 by the ACR Board of Chancellors and was presented to him as the inaugural recipient. That same year, Dr. Thorwarth received a silver medal from the North Carolina Radiological Society for extraordinary service to the chapter. In 2010, he was awarded an ACR gold medal.