Annual Oration in Diagnostic Radiology
Building a Better Future for the Global Radiology Community: Selfless Service, Innovative Technologies, and Online Radiology Education for COVID-19 and Beyond
Tuesday, Dec. 1, 11 a.m. CT
---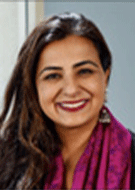 ---
Bhavya Rehani, MD, a recognized authority on global health and health inequities among vulnerable populations, says the post COVID-19 era presents radiologists with an unprecedented opportunity to make a real difference in human health.
"As we look forward to the postCOVID-19 era, radiologists around the world can unite to make a difference in the health of human beings throughout the world," Dr. Rehani says. "There is no better joy than 'seva' or selfless service to help others."
In her lecture, Dr. Rehani will discuss how to build a better future for the global radiology community through selfless service, innovative technologies and online education. COVID-19 has highlighted the health care disparities in the world's vulnerable populations, she says, and radiologists can help their colleagues and their patients by employing virtual education, telemedicine, mobile health and machine learning techniques.
Dr. Rehani is the co-founder, CEO and president of Health4theWorld, an award-winning nonprofit organization. She completed her residency from University of Cincinnati, neuroradiology fellowship at Massachusetts General Hospital, Harvard Medical School, and is an assistant professor in residence at the University of California, San Francisco (UCSF).
Growing up in India, Dr. Rehani witnessed the poor access to health care for her own grandparents in rural India. Inspired to find a solution and give back, she launched Health4theWorld. The organization provides free education and technology resources in 80 countries. Faculty in radiology and 19 other specialties from 25 academic institutions have provided weekly live and asynchronous learning through Health4theWorld Academy with more than 500 videos posted in the last five years. Dr. Rehani has led the integration of innovative technologies in global health including a Stroke App to help patients in the remote corners of the world.
Acclaimed for her service to the global community, Dr. Rehani was recently awarded the 2020 UCSF Chancellor Award for Public Service. Dr. Rehani received an RSNA Roentgen Resident/Fellow Research Award in 2012 and RSNA Education Scholar Grant in 2015. In 2019, she was awarded the Silicon Woman of Influence Award by the Silicon Valley Business Journal and named in "Rising Stars: 66 Leaders in Healthcare Under 40" by Becker's Health Review. In 2018, Dr. Rehani was awarded the Woman of the Year and Female Innovator of the Year by Women in Business Awards and Health4theWorld was awarded the Organization of the Year. Her work has been featured by Forbes, NBC and SF Business Times.