RSNA To Collaborate on Open-Source COVID-19 Medical Image Database
New Medical Imaging and Data Resource Center will aid AI development and medical advancement to battle COVID-19
---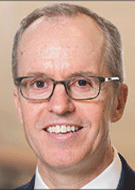 ---
RSNA is collaborating to develop the Medical Imaging and Data Resource Center (MIDRC), an open-source database with medical images from tens of thousands of coronavirus (COVID-19) patients. The MIDRC will help doctors better understand, diagnose, monitor and treat COVID-19.
RSNA will co-lead the effort with the American College of Radiology (ACR) and the American Association of Physicists in Medicine (AAPM). The National Institute of Biomedical Imaging and Bioengineering (NIBIB) at the National Institutes of Health (NIH) is funding the effort through a contract to Maryellen Giger, PhD, of the University of Chicago, which will host the MIDRC. Funded under the NIH's special emergency COVID-19 process, the MIDRC will create an open access platform to collect, annotate, store and share COVID-related medical images.
"RSNA is pleased to collaborate on this vital resource for COVID-19 research," said Curtis Langlotz, MD, PhD, RSNA Board liaison for information technology and annual meeting and professor of radiology and biomedical informatics, director of the Center for Artificial Intelligence in Medicine and Imaging, and associate chair for information systems in the Department of Radiology at Stanford University. "This dedicated team of research scientists, engineers and imaging professionals will produce new tools for the detection, diagnosis and prognosis of COVID-19 by aggregating massive amounts of imaging and other clinical data from COVID-19 patients. We look forward to linkages with other national data repositories to enable a comprehensive analysis of COVID-19 disease and its imaging manifestations."
The MIDRC will bring together engineers, physicians and scientists to collect and organize the data to answer crucial questions about how imaging could be deployed against COVID-19. For example, artificial intelligence (AI) algorithms could help radiologists better prioritize and analyze scans. But thousands of images must be collected and annotated to train these algorithms.
The MIDRC will soon leverage existing data collection efforts to upload more than 10,000 COVID-19 thoracic radiographs and CT images, including many from the RSNA International COVID-19 Open Radiology Database (RICORD) and the ACR COVID-19 Imaging Research Registry. This will allow researchers worldwide to access a wealth of images and clinical data to answer COVID-19 clinical and logistical questions.
The MIDRC will include five infrastructure development projects and oversee twelve research projects, including approximately 20 university labs, in support of solutions to the COVID-19 pandemic. The MIDRC will initially focus on COVID-19 but will work to expand services to provide imaging data and AI pipelines to aid the fight against other diseases.
For More Information
Visit MIDRC.org.
Read more about the RSNA International COVID-19 Open Radiology Database (RICORD).
View the available COVID-19 images in the RSNA Case Collection and the Radiology of Coronavirus: Spectrum of Imaging Findings.
Read the NIBIB announcement of MIDRC.