Radiologist Draws on Art Background to Create Unique Educational Tool
Paintings depict the work of radiologists
BY MELISSA SILVERBERG
February 10, 2020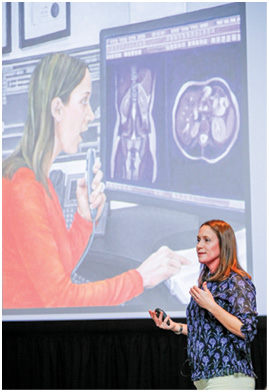 Kari Visscher, MD, was an artist before she was a radiologist.
Dr. Visscher completed a master's degree in medical arts before earning her medical degree at the University of Toronto. During her radiology residency, she fell back on her creative training to maintain balance at some of the most difficult times.
"One of the ways I coped was by painting," said Dr. Visscher, now an adjunct professor of radiology at McMaster University in Ontario, Canada. "Artists paint what they do. I do this, so I might as well find ways to paint it."
During an RSNA 2019 session, Dr. Visscher discussed how art can be used as an educational tool for physicians. As radiologists continue to explore new ways to make their role in the health care process clear, Dr. Visscher said art can make it happen.
"Through these paintings you can see how the radiologist is part of the health care team, how we interact with patients," she said.
Only one of her paintings shows a solitary radiologist — Dr. Visscher herself — sitting in a room reading a scan, which is what people typically assume radiologists do as physicians. Even then, Dr. Visscher made artistic choices to upend that assumption, like painting the doctor in a brightly lit room.
"I wanted to combat that stereotype of the isolated radiologist working in a dark room that doesn't talk to anyone," she said.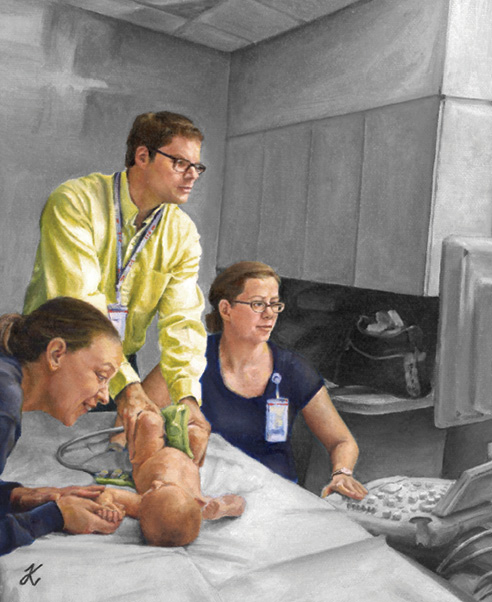 Art-Based Learning Aids Difficult Conversations
While creating a series of paintings helped Dr. Visscher work through her own experiences, discussing that art has evolved into a useful educational tool for others. Dr. Visscher leads other physicians and students through conversations about what they see in the paintings, why they think certain artistic choices were made, and how that art relates to their real-life experiences in health care.
During the 2018 meeting of the Association of University Radiologists (AUR), Dr. Visscher led a session on art reflection to engage radiologists in conversations about wellness, gender, diversity, and other difficult issues. Teaching doctors to look for many layers of meaning in art is not all that different from how radiologists must look deeply at a patient scan, Dr. Visscher said. "It's all part of the same process."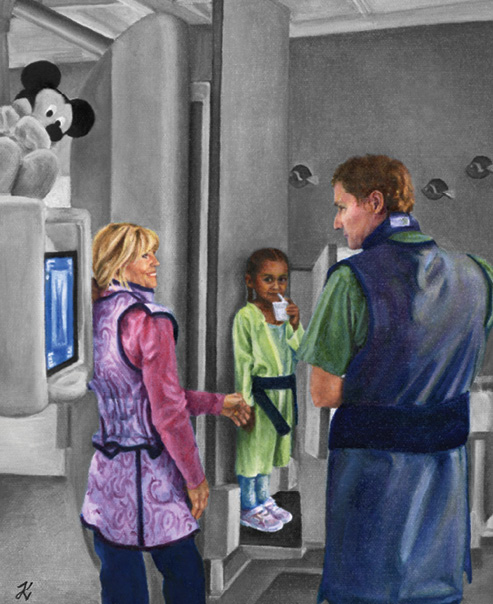 Art-based learning can help doctors and trainees explore sensitivity and subjectivity, qualities that may not be covered in a traditional medical education curriculum. It can also help radiologists improve their observational and communication skills, she said.
"Story is such a huge part of being an efficient doctor. You need to be able to absorb and interpret people's illness experience and help tell the story of what comes next," she said.
Discussing paintings that depict the work of radiologists also leads to important conversations about the field that may not have happened otherwise.
"It gives you a neutral ground to slow down and talk," Dr. Visscher said. "We run from day to day, from patient to patient, from study to study. We hardly every stop. I hear back from students that they get so much out of pausing and reflecting in a safe environment."
It allows doctors to talk about humanity, burnout, biases and other issues that can otherwise be difficult to broach.
"Art allows you to explore at your own pace and see other perspectives you maybe would not have before," she said.