Submissions Open for RSNA Case Collection
Submit cases now to help build a resource for access during daily practice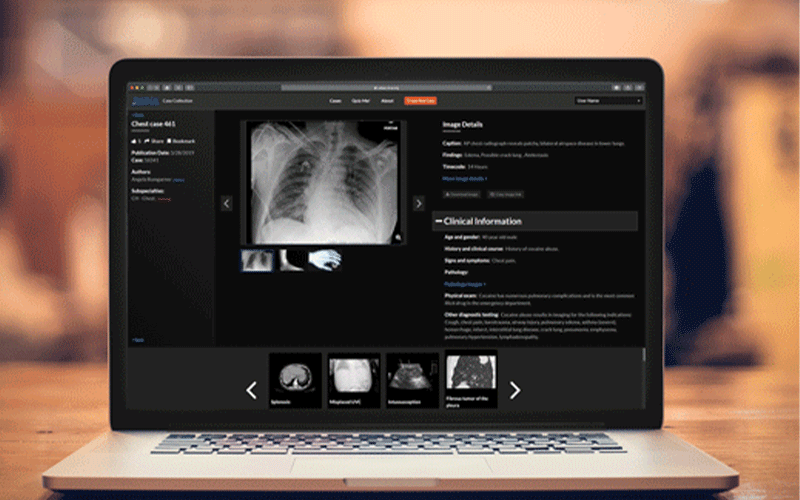 Submissions are open for RSNA Case Collection, a new online, educational and point-of-care tool to assist radiologists in diagnosis. Mariam Moshiri, MD, is the editor of RSNA Case Collection. See the list of editorial board members below.
RSNA Case Collection is the first of its kind to be designed exclusively for use within the radiology environment. All submissions will be peer-reviewed and RSNA-vetted to provide a curated and trusted resource that aids in diagnosis. The easy-to-use online platform will organize cases by subspecialty to enable confident diagnoses. RSNA Case Collection's editorial board encourages case submissions of all types. Review the list of preferred case topics at Cases.RSNA.org to help meet the goals of this point-of-care resource.
While RSNA members are invited to submit cases, you don't need to be an RSNA member to submit. Accepted cases will be assigned a DOI, making them citable for research. Prior to submission, review the authoring guidelines.
The RSNA Case Collection will launch in mid-2020. Submit a case at Cases.RSNA.org.
The members of the RSNA Case Collection editorial board are:
Saeed Elojeimy, MD, PhD, Albuquerque, NM
Susanna I. Lee, MD, PhD, Boston, MA
Kush R. Desai, MD, Chicago, IL
Manickam Kumaravel, MD, FRCR, Houston, TX
Christopher Walker, MD, Kansas City, MO
Margarita V. Revzin, MD, New Haven, CT
Douglas S. Katz, MD, New York, NY
Nader Z. Zakhari, MBBCh, Ottawa, CA
Ramesh S. Iyer, MD, MBA, Seattle, WA
Debbie L. Bennett, MD, St. Louis, MO