Robert. E. Campbell, MD, Dies at 88
Strong supporter of radiology research, Dr. Campbell was a former RSNA president and founding trustee of the R&E Foundation
---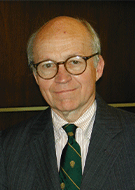 ---
Former RSNA president and founding trustee and chairman of the RSNA R&E Foundation, Robert E. Campbell, MD, passed away on Feb. 2 in Haverford, PA. He was 88.
Dr. Campbell was a diagnostic radiologist and spent his entire career at the University of Pennsylvania, Philadelphia, where he received his medical degree and completed his residency and fellowship. He contributed more than 50 years of service to Pennsylvania Hospital, The University of Pennsylvania School of Medicine and Jefferson Medical College. In 1986, Dr. Campbell was named director of the Department of Radiology. He also served as clinical professor of radiology at the University of Pennsylvania School of Medicine. He retired in 2005.
Dr. Campbell had a long history of involvement with the RSNA, including serving as chair of the annual meeting Refresher Course Committee, from 1976 to 1979. In this role, before assignment processes were computerized, Dr. Campbell and his fellow committee members prepared the meeting course tickets by hand. Additional meeting information was assembled at his house, with the help of his family, before it was mailed to the attendees.
He was a member of the RSNA Board of Directors, where he served as Board Liaison for Education. In this role, he used his expertise and commitment to radiologic education to provide direction for the scientific program and exhibits for several annual meetings. He also served as chair of the RSNA Education Council and Nominating Committee. In 1989, Dr. Campbell served as RSNA president.
Dr. Campbell was instrumental in the founding of the RSNA R&E Foundation and his legacy continues to make a significant impact on the radiology community and on improved patient care. He served as chair of the R&E Board of Trustees, was chair of the Individual Giving Subcommittee during the R&E Foundation's Silver Anniversary Campaign and was also chair of the Fund Development Committee. He remained active on several R&E committees. He served as the R&E Liaison to the Committee for International Radiology Education and as the R&E Foundation Contributing Editor to RSNA News. For his dedication and commitment to RSNA, he was awarded the RSNA Gold Medal in 1993.
He was also an active member and board member of the American College of Radiology (ACR) and the American Board of Radiology. He received the ACR Gold Medal in 2006. He was also the first honorary member of the European Congress of Radiology.
Dr. Campbell authored numerous publications. He served as editor of Contemporary Diagnostic Radiology and associate editor of the ACR Self-Evaluation Syllabi on Emergency Radiology and on Chest Disease.
Donations can be made to the R&E Foundation in memory of Dr Campbell. Contributions can be submitted online or by mail to: RSNA R&E Foundation, 820 Jorie Blvd., Ste. 200, Oak Brook, IL 60523-2251.