Novel PET/MRI Method Promising for Prostate Cancer Staging
R&E research shows technology could have clinical value for high-risk prostate cancer patients
BY EVONNE ACEVEDO
September 16, 2020
---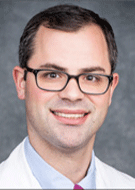 ---
A comprehensive nuclear imaging method combining whole-body PET/MRI and regional multiparametric MR of the prostate could offer significant improvements in prostate cancer staging, according to recent research.
Pre-treatment staging is currently problematic for many prostate cancer patients. In a significant number of men, conventional imaging with CT or MR and nuclear medicine bone scan is falsely negative for regional lymph node metastases, said Samuel J. Galgano, MD, assistant professor, Abdominal Imaging and Molecular Imaging and Therapeutics, University of Alabama at Birmingham (UAB).
"Approximately 35% of men with high-risk prostate cancer will have biochemical recurrence even after optimal treatment," said Dr. Galgano.
In his recent research, "Pretreatment Staging of High-risk Prostate Cancer with F-18 Fluciclovine PET/MRI," funded by a 2017 RSNA Research Fellow Grant, Dr. Galgano studied the utility of the amino acid PET tracer (18F) fluciclovine for staging high-risk prostate cancer patients prior to therapy and for monitoring response.
"This novel approach using (18F) fluciclovine-PET/MRI takes advantage of each strength of the individual imaging modality to improve on the inherent weakness of the other imaging modality," Dr. Galgano said.
While 18F fluciclovine has been approved by the U.S. Food and Drug Administration (FDA) for use in recurrent prostate cancer, its usefulness in pre-treatment staging and for monitoring response to therapy has yet to be established, Dr. Galgano said.
"In addition, the use of PET/MRI for the initial staging of prostate cancer is just beginning to be investigated, but allows for the potential increased sensitivity of detection of metastatic disease on molecular imaging combined with high-resolution images of the prostate for local disease staging," Dr. Galgano said.
Possible Use in Clinical Setting
The study comprised 14 men with biopsy-proven prostate cancer that met National Comprehensive Cancer Network high-risk criteria. Dr. Galgano's team performed comprehensive whole-body 18F fluciclovine-PET/MR imaging plus regional multiparametric MRI of the prostate prior to the patients undergoing treatment. After treatment, the patients underwent repeat 18F fluciclovine-PET/ MR imaging.
"Interestingly, 18F fluciclovine-PET/MR demonstrated seminal vesicle invasion in two patients that was not identified on MR imaging alone," Dr. Galgano said. "In addition, 18F fluciclovine-PET/ MR detected suspected metastatic lymph nodes that were not pathologically enlarged by conventional RECIST 1.1 size criteria, which has been demonstrated in prior studies."
Overall findings show that 18F fluciclovine-PET/MRI has potential value in the initial staging of patients with high-risk prostate cancer, potentially expanding its use in the clinical setting.
"Surgeons may be able to use this technology to develop new treatment algorithms for the optimal management of high-risk prostate cancer patients," Dr. Galgano said. "Additionally, 18F fluciclovine PET improves detection of pelvic lymph node metastases when compared to MR, where lymph node metastases are frequently only detected once the lymph node becomes enlarged.
"It is exciting that this comprehensive staging examination can take place in a single imaging exam, which is beneficial to the patient and helps consolidate hospital trips and imaging studies."
RSNA Grant Spurs Biomedical Imaging Research
Dr. Galgano said the RSNA Research Fellow grant was not only the catalyst for his research career, but offered the opportunity to work with scientific advisor, Jonathan McConathy, MD, PhD, director, Division of Molecular Imaging and Therapeutics at UAB, to gain insight into research methods and techniques.
"Prior to participating in the RSNA Research Fellow Grant program, I had not ever seriously considered a career as a physician-scientist," said Dr. Galgano, who was a fellow in abdominal imaging at the time of the R&E grant. "After participation, I plan to continue pursuing funded research in biomedical imaging."
Among other lessons, the experience taught Dr. Galgano the process for running an effective clinical trial.
"From the new drug application, to the FDA approval, to the coordination of patient care with referring providers, the study taught me a lot about how to do — and not to do — good research."
Dr. Galgano, who used the data from his R&E research to formulate an National Institues of Health R01 submission, said the findings from this study are an important first step toward evaluating an approved PET agent for a new application.
"Improvements in initial staging could affect treatment planning decisions and ultimately lead to improved outcomes in biochemical recurrence and progression-free survival," Dr. Galgano said.
For More Information
Learn more about RSNA R&E Foundation grants at RSNA.org/Research.
Learn more about how the R&E Foundation supports the future of radiologic research and education.
Read previous RSNA News stories about R&E Foundation funded research: