David B. Fraser, MD, Dies at 87
Leader in Canadian radiology, Dr. Fraser was a former RSNA president and Gold Medal recipient
---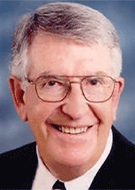 ---
Former RSNA president and international leader in cardiovascular imaging, David B. Fraser, MD, died on Feb. 15 in Halifax, Nova Scotia. He was 87.
A respected educator and noted authority in cardiovascular imaging, Dr. Fraser's dedication to research and education inspired a generation of radiologists. For more than 50 years, Dr. Fraser was a mentor, teacher, researcher and leader in Canadian radiology.
Dr. Fraser received his medical degree from Dalhousie University in Halifax, Nova Scotia, Canada, and practiced family medicine for several years in Halifax. He then completed his residency in diagnostic radiology at Dalhousie University and a fellowship in cardiovascular radiology at Harvard University, Boston.
He served as an associate professor in the Department of Diagnostic Radiology at Dalhousie University and Victoria General Hospital in Halifax before being named professor and department chair. During his tenure as chair, Dr. Fraser facilitated the merger of the radiology departments of the Victoria General Hospital and Queen Elizabeth II (QEII) Health Sciences Centre. His reputation as a skilled negotiator was instrumental in leading the departments through a sequence of renovations and equipment acquisitions. Because he had a vested interest in both, he helped develop and foster a relationship between the cardiology and radiology departments.
Dr. Fraser retired as department chair in 1998. In recognition of his service, Dalhousie University established an endowment in his name that supports The David B. Fraser Radiology Learning Center, which develops radiology learning resources for residents.
Dr. Fraser was a member of the RSNA Board of Directors, serving as the Liaison for Publications. He served as RSNA president in 1998.
He joined the RSNA R&E Foundation Board of Trustees and served as chair in 2001. He served as a chair of the R&E Foundation Nominating Committee and the Research Scholar Review Panel and was an R&E Foundation Gold Visionary donor. Dr. Fraser received the RSNA Gold Medal in 2003.
In addition, Dr. Fraser served as president of the Canadian Association of Radiologists (CAR), as chair of the Canadian Heads of Academic Radiology and as a member of the Executive Committee of the International Society of Radiology.
Dr. Fraser was recognized with a Gold Medal from CAR, received a Commemorative Medal for the Queen's Golden Jubilee and held honorary memberships with the Canadian Medical Association, the Inter-American Society of Radiology and the European Congress of Radiology.