Residents and Fellows Learn, Compete, Connect at RSNA 2019
RSNA 2019 offers an array of programming and networking opportunities tailored to residents and fellows
RSNA Resident and Fellow Symposium
The RSNA Resident and Fellow Symposium, an interactive session, will be held Tuesday, Dec. 3, during RSNA 2019. Go to Meeting.RSNA.org to add the symposium to My Agenda.
Topics include:
• Job Market Update: Changing Practice Patterns
• Making Major Career Decisions
• Transition to Early Career
• Personal Finance Essentials
• Q & A
• Career Practice Panel
Other sessions that may interest residents and fellows include Diagnosis Live™ case-based interactive competitions and review sessions and updates from the American Board of Radiology and the Residency Review Committee.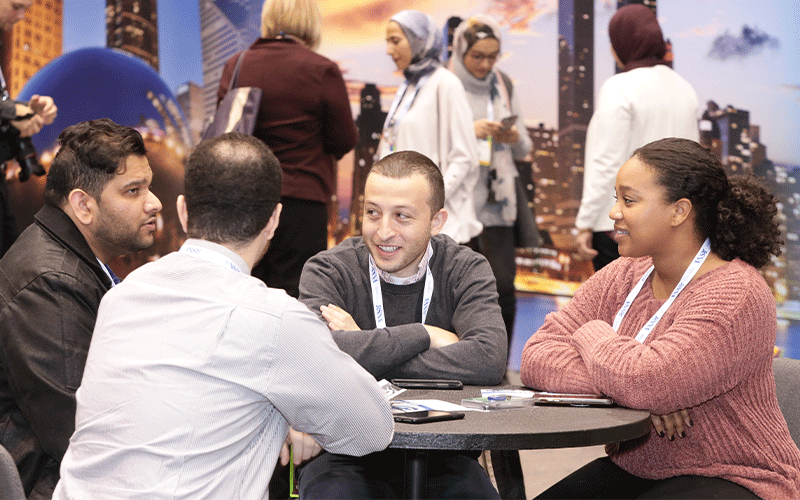 Resident Perspective: Navigating RSNA & Chicago
Members of the RSNA Resident and Fellow Committee (RFC), David Ballard, MD, and Christopher Calixte, MD, will offer tips on how to get the most out of both RSNA and Chicago. The presentation will be on Sunday, Dec. 1, from 4:15 to 4:45 p.m. in the Discovery Theatre located in the Connections Center.
RSNA Diagnosis Live™ Resident Competition
On Monday, Dec. 2, from 2 to 3 p.m., the third annual RSNA Diagnosis Live™ Resident Competition will be held in the Discovery Theater. The competition will feature residency program representatives competing head-to-head in a challenge for the ultimate bragging rights.
Residents Reception
Offered in conjunction with the American College of Radiology, the reception gives residents a chance to eat, mix and mingle with their peers and network with longtime RSNA members and leaders in radiology. The reception will be held Monday, Dec. 2, from 4 to 5 p.m., in the Hyatt Regency McCormick Place.
Residents Lounge
RSNA members-in-training and non-member residents are offered a place to relax and network while enjoying complimentary refreshments. The lounge is open Sunday through Thursday, from 8 a.m. to 6 p.m.
This year, the lounge will host events planned by the RSNA RFC to provide trainees with mentorship opportunities and career guidance.
Program Director/Medical Student Q&A
Sunday, Dec. 1, 1:30 to 2:30 p.m.
Meet with interventional and diagnostic radiology program directors to learn about applications, interviewing and the residency matching process.
Fellowship Mentorship
Monday, Dec. 2, 10:30 to 11:30 a.m.
Volunteers from six subspecialties will share recent experiences involving applications, interviewing and the fellowship matching process.
VIP Meet & Greet
Monday, Dec. 2, 12 to 12:45 p.m.
Residents will have the opportunity to connect and network with successful radiologists.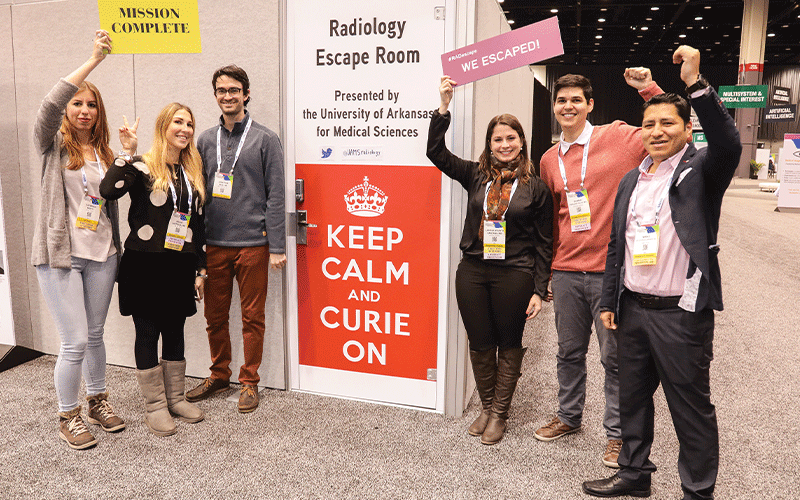 Escape Room
RSNA will host the Escape Room presented by the University of Arkansas Medical Sciences. Residents will be locked in the Escape Room with their peers for a maximum of 60 minutes to solve a series of radiology-related puzzles and trivia questions by using strategy and teamwork. The Escape Room will run Monday, Dec. 2, through Thursday, Dec. 5, and will be located across from the entrance to the Residents Lounge.
Meeting attendees will have an opportunity to view the Escape Room and visit with game facilitators during an open house to be held each morning from 9 to 10 a.m. beginning Monday, Dec. 2, through Thursday, Dec. 5.
Recruiters Row
The annual meeting is the perfect place to connect with organizations offering career opportunities. Visit Recruiters Row in Technical Exhibits South Hall to meet with employers recruiting at RSNA.