The Path to Integrated Diagnostics
Tuesday, Dec. 3, 10:30 a.m. - Room E451B
---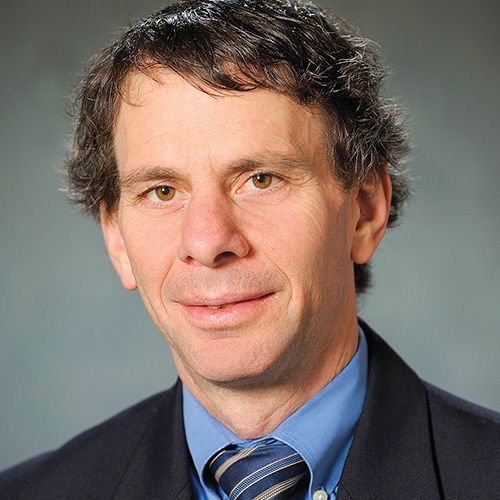 ---
An international leader in translational biomedical imaging research, Mitchell D. Schnall, MD, PhD, bridges the interface between basic imaging science and clinical medicine. His work on MRI methodology has led to fundamental changes in the imaging approaches to breast and prostate cancer. His work has significantly influenced emerging technologies such as optical imaging.
Currently the Eugene P. Pendergrass Professor of Radiology and the chair of the Department of Radiology at the Perelman School of Medicine at the University of Pennsylvania in Philadelphia, Dr. Schnall has been a faculty member since 1991, and a full professor since 2002. He earned his undergraduate, medical and doctorate degrees and also completed his residency at the University of Pennsylvania.
In his lecture, Dr. Schnall will discuss how an integrated diagnostic approach, which combines radiology, pathology and genomics, may lead to improved patient outcomes.
Dr. Schnall led efforts to organize clinical and translational cancer imaging research in the U.S. He served as deputy chair of the American College of Radiology Imaging Network (ACRIN) from 1999 to 2007, and became chair in 2008. Among the groundbreaking trials under his leadership at ACRIN is the landmark National Lung Cancer Screening trial that demonstrated the ability of low-dose lung cancer screening to reduce lung cancer mortality by 20 percent in high-risk patients. Dr. Schnall was one of the architects of the merger of the Eastern Cooperative Oncology Group (ECOG) and ACRIN to form the ECOG-ACRIN Cancer Research Group. He is group co-chair, a position he has held since the organization began in 2012.
Among his many honors, Dr. Schnall was elected as a member of the Institute of Medicine in 2012 and was awarded a gold medal from the International Society for Magnetic Resonance Imaging in 2013. Since receiving a GE Healthcare/RSNA Research Scholar Grant to investigate MR imaging of rectal cancer in 1992, Dr. Schnall has secured extensive funding from competitive federal sources to support his research . He has published over 350 studies.
World-renowned for his research in innovative MRI techniques, Dr. Schnall is a frequent invited lecturer around the globe. He currently serves as a member of the RSNA R&E Foundation Board of Trustees and chair of the Research Commission of the American College of Radiology.