---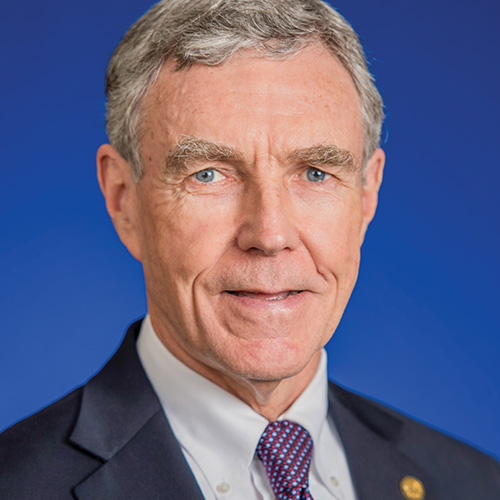 ---
N. Reed Dunnick, MD, is a champion of scientific research in medical imaging. For 26 years, he served as the Fred Jenner Hodges Professor and Chair of the University of Michigan's Department of Radiology, and continues to serve as a faculty member, encouraging new advances in imaging, image-guided therapy and professional development.
"Dr. Dunnick embodies the word "volunteer," having made major contributions to every radiology organization in the U.S.," said RSNA President Valerie P. Jackson. "I feel fortunate to have worked with him in many venues over the years and I have learned a great deal from him about leadership and management, research and life."
Dr. Dunnick received his medical degree from Cornell University Medical College in New York City in 1969, and spent two years working in internal medicine at Strong Memorial Hospital at the University of Rochester in New York. He completed his residency in diagnostic radiology at Stanford University, and served as a staff radiologist for the National Institutes of Health (NIH), where he cultivated an interest in genitourinary tract radiology. He served on the faculty of Duke University for 11 years as a professor of radiology, chief of uroradiology and director of the Division of Diagnostic Imaging. In 1984 Dr. Dunnick received Duke's William F. Barry Jr. Award for Teaching Excellence.
Since 1973, Dr. Dunnick has conducted studies in renal and adrenal imaging, exploring multiple modalities in diagnosis and treatment in a wide array of conditions. He has led initiatives in quality improvement, faculty satisfaction, training and continuing education for medical imaging professionals.
Dr. Dunnick has contributed to more than 300 scientific articles, 62 book chapters and 11 books. He has served on the editorial boards of numerous peer-reviewed journals, including Radiology, American Journal of Roentgenology, Academic Radiology, and Journal of the American College of Radiology.
A veteran leader in medical imaging, Dr. Dunnick is a past president of the American Board of Radiology (ABR), the American Roentgen Ray Society (ARRS), the Association of University Radiologists (AUR), Michigan Radiological Society (MRS), the Society of Chairs of Academic Radiology Departments (SCARD), the Society of Computed Body Tomography and Magnetic Resonance (SCBT-MR), and the Society of Uroradiology (SUR). As past president of the Academy for Radiology Research, he delivered testimony before Congress that helped to establish the National Institute of Biomedical Imaging and Bioengineering signed into law by President Clinton in 2000. He is a past president of the RSNA, also serving as liaison for publications and communications, liaison for science, and chair of the Board of Directors. He also served as a member and is a past chair of the R&E Foundation Board of Trustees.
Well recognized for his wide-ranging contributions to radiology, Dr. Dunnick has been awarded gold medals from the Academy of Radiology Research, American College of Radiology, ARRS, AUR, MRS, SCBT-MR and SUR. He holds honorary membership in the American Society for Radiation Oncology, Chinese Society of Radiology, European Society of Radiology, and Japan Radiological Society. He was honored by the Mexican Federation of Radiology and Imaging with the Radiological Merit Award in 2014. He received a Lifetime Service Award from the ABR in 2010, the Innovation and Leadership Award from the Radiology Research Alliance in 2013, and the Visionary Leadership Award from SCARD in 2016.