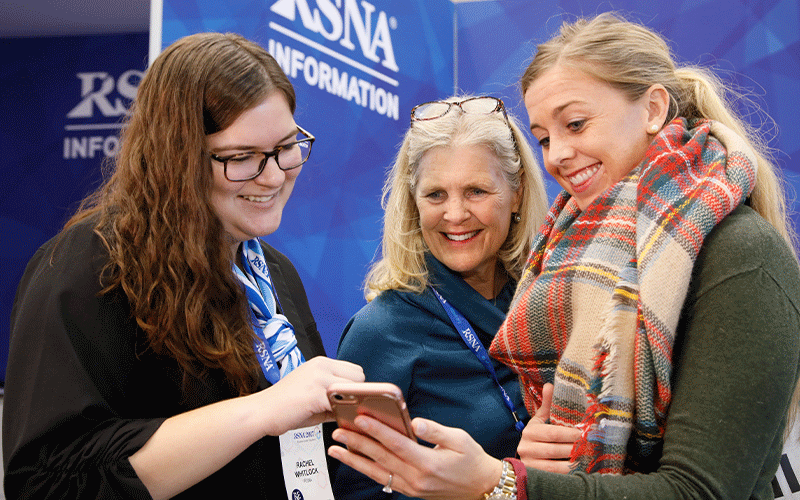 Meeting Central
Optimized for tablets and mobile devices, Meeting Central (
Meeting.RSNA.org
) is an essential resource for navigating RSNA 2019.
• RSNA Meeting Program — Browse the listings of educational courses, scientific presentations, education exhibits and additional events. Search for courses, sessions and events by keyword, title or name of presenter, using helpful filters by day, session type and subspecialty.
• Technical Exhibitors List — Learn about the companies unveiling the latest equipment and technology. Search the exhibitor listing by product category or name to find the companies you are looking for and add them to your agenda. You can also schedule an appointment with exhibitors noted with the Featured Exhibitor icon.
• Virtual Meeting Program — Browse virtual sessions available live or on-demand either onsite or virtually from anywhere across the globe.
• My Agenda — Build your meeting calendar and stay organized with a handy schedule personalized to your needs — perfect for planning ahead — and access Credit Eval. Please note courses are seated on a first-come, first-served basis and adding a session to My Agenda does not reserve a seat.
RSNA 2019 Meeting App
Download the RSNA 2019 Meeting App for iPhone, iPad and Android smartphones to access and explore the Meeting Program even when you're offline. Browse the technical exhibitor list, access maps to navigate McCormick Place and customize your daily meeting schedule with My Agenda. The RSNA 2019 Meeting App is available now via the App Store and Google Play. Search "RSNA 2019."
Credit Eval
Click My Agenda to access Credit Eval to evaluate RSNA 2019 courses and claim credits online via your laptop or mobile device or at any Internet Station in McCormick Place.
You can begin your evaluations as early as 10 minutes after courses start, claim your credits onsite and walk away with printed certificates. You'll also receive a link via email to print your certificate at home, and credits earned by RSNA members will be automatically added to the member's RSNA CME Repository. After the meeting, you may evaluate courses and claim credit through Dec. 13, which is the evaluation deadline.
Assistance is available at the Digital Support booth in the Connections Center. Contact eval@rsna.org if you do not receive your certificate or have questions after the meeting. If you need a Certificate of Attendance, please email customerservice@rsna.org.
For more information about RSNA 2019, visit Meeting.RSNA.org.