Member Spotlight: Bhavya Rehani, MD
Learn more about the interests and accomplishments of an RSNA member.
---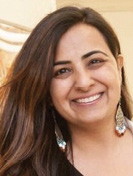 ---
Bhavya Rehani, MD, is an assistant professor in residence in the Department of Radiology and Biomedical Imaging at the University of California, San Francisco (UCSF). She completed her neuroradiology fellowship at Massachusetts General Hospital and her residency at the University of Cincinnati and National Institutes of Health (NIH) Clinical Center.
Dr. Rehani focuses her research on advanced imaging, functional MRI, neurovascular imaging of stroke including perfusion and development of imaging biomarkers for precision medicine to improve patient care and outcomes. She has published multiple global health projects which find solutions for gaps in radiology education, access, quality and safety programs in close to 70 countries in Africa, Asia and South America. She recently launched one of the largest free online platforms called Health4TheWorld Academy under the award-winning, nonprofit initiative Health4TheWorld. She was awarded the Female Innovator of the Year in 2018 and was recently nominated to the Council of Early Investigators in Imaging. She received an RSNA Education Scholar Grant in 2015 for her work in Kenya, and the RSNA Roentgen Resident/Fellow Research Award in 2012.
What or who sparked your interest in radiology?
During my radiology rotation in medical school I had the opportunity to work in the neuroradiology reading room. Seeing the brain — the most beautiful organ — made me fall in love with radiology. The ability for imaging to capture the intricacies of the human brain and the opportunity to impact patient care inspires me every day.
What would you describe as the biggest professional challenge you face today?
I wish I had more time in a day to juggle responsibilities between teaching, patient care and research.
What is the biggest reward?
By far the biggest reward is knowing I can improve patient care. For example, MRI and CT have a huge impact on emergent care of stroke patients. We are able to treat patients even 24 hours after onset of stroke symptoms and their care management is guided by imaging. My work with Health4theWorld always provides me with hope. We are educating future leaders and learning from them at the same time as they make the best of some tough situations in lowresource settings globally. (Dr. Rehani, along with Drs. Bill Dillon and Ankur Bharija, founded Heatlh4theWorld to provide online education and technological solutions using mobile health, virtual reality and machine learning for medical professionals in 22 countries.)
How does your membership with RSNA help you in your daily practice?
Membership in RSNA profoundly affects young radiologists. I was always impressed as a trainee by the educational opportunities and the global impact of RSNA. Meeting my international colleagues at the annual meeting and hearing their stories always inspires me. I was so grateful to receive an RSNA Scholar Grant from the R&E Foundation, which allowed me to create the RISE (Radiology International Student Education) online education platform that provided training for residents in Kenya.
How do you like to spend your free time?
I try to spend as much time as I can with my family, including my 10-month-old daughter. I also try to make time for swimming, reading and meditation.