RSNA Learning Center Features More than 2,500 Posters and Exhibits
Located in Lakeside Center East, Level 3, the Learning Center houses thousands of education exhibits and scientific digital posters covering a range of subspecialties. Scientific posters will be displayed within each learning community. During the lunch hour, authors will be present for Poster Discussions. Visit Meeting Central for days/times.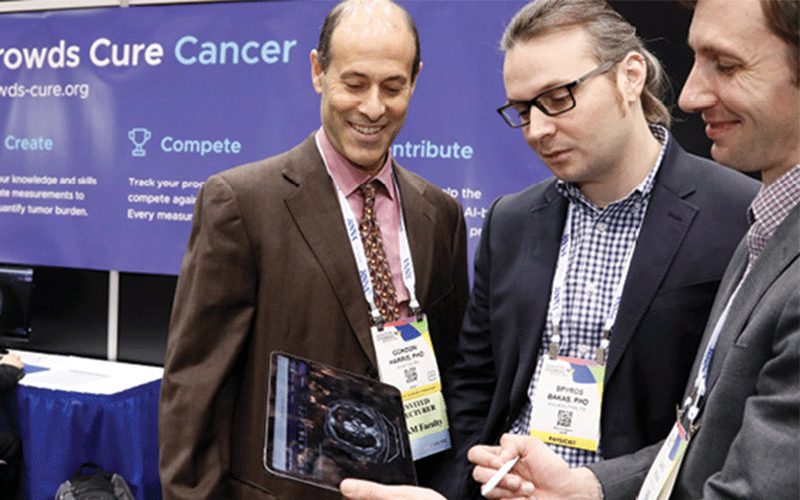 RSNA Case Collection
Visit the lounge outside the RSNA Journals' Editorial Offices to learn more about RSNA Case Collection— launching in mid-2020. Together we're building an education and point-of-care resource with access to the global radiology community. Attend a Discovery Theater presentation about the Case Collection on Sunday, Dec. 1 at 2:30 p.m.
Crowds Cure Cancer: Help Annotate Data from the Cancer Imaging Archive
Attendees are invited to participate in this crowd-sourcing initiative to generate valuable data on deep learning, radiomics and radiogenomics and accelerate quantitative imaging research. Images are provided by the National Cancer Institute's Cancer Imaging Archive (TCIA). Because many cases lack the tumor-location labels that computer scientists need to jump-start their research, participants will be asked to anonymously review cases and visually mark tumor locations. TCIA will share this data to accelerate cancer research. Attendees who complete the project will receive an RSNA ribbon. The Crowds Cure Cancer booth will be open all day throughout the week.
NCI Image Perception Lab
Researchers supported by the National Cancer Institute (NCI) will conduct studies on radiologic image perception at RSNA 2019. Attendees can learn about this important area of research, and if they wish, participate in the studies as volunteers.
Quality Improvement (QI) Storyboard Walk
Join experts in quality improvement (QI) in radiology as they walk through the QI posters, highlighting examples of great work and sound methodology. Those interested in leading and publishing QI projects will find this especially valuable. The poster walk will be held Monday, Dec. 2, at 3 p.m. in the Quality Storyboard section. This session may be claimed for AMA PRA Category 1 Credit™.
For more information about RSNA 2019, visit Meeting.RSNA.org.