RSNA 2018 Residents Fellows
Highlighted by the annual RSNA Resident and Fellow Symposium, RSNA 2018 offers an array of programming geared toward residents and fellows, along with networking opportunities. RSNA annual meeting registration is free for members-in-training.
RSNA Resident and Fellow Symposium
The RSNA Resident and Fellow Symposium, "Transition to Early Career," (MSRP31) an interactive session, will be held Tuesday, Nov. 27, during RSNA 2018. Go to Meeting.RSNA.org to add the symposium to My Agenda.
Topics include:
Job Market Update
Changes in Radiology Marketplace
Personal Finance for Radiology Residents
Transition to Early Career
Q & A
Career Transition Panel
Other sessions that may interest residents and fellows include interactive Diagnosis Live™ sessions, what's new from the American Board of Radiology (ABR), case-based interactive competition and review sessions and, "Developing Competency in Non-Clinical Professional Roles in Radiology and Medicine," sponsored by the RSNA Professionalism Committee.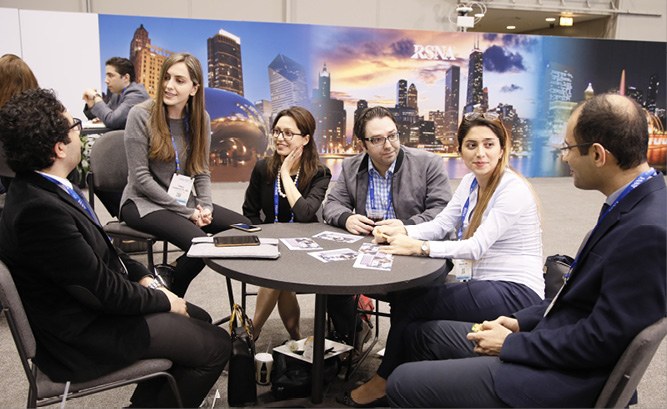 RSNA Diagnosis Live™ Resident Competition
On Monday, Nov. 26, the Discovery Theater in the Connections Center will host the Diagnosis Live™ Resident Competition, which will feature residency programs in a head-to-head challenge for the ultimate residency program bragging rights.
Residents Reception
Offered in conjunction with the American College of Radiology, the reception gives residents a chance to eat, mix and mingle with their peers and network with longtime RSNA members and leaders in radiology. The reception will be held Monday, Nov. 26, from 4 to 5 p.m., in the Hyatt Regency McCormick Place.
Residents Lounge
RSNA members-in-training and non-member residents are offered a place to relax and network while enjoyingcomplimentary refreshments. The lounge is open Sunday through Thursday, from 8 a.m. to 6 p.m.
Trainee Tweetup
Network with peers and fellow Twitter users at this in-person gathering hosted by RSNA's Resident and Fellow Committee, held in the Residents Lounge at 4:30 p.m., Tuesday, Nov. 27. New to Twitter? Meet the people behind the usernames and learn more about the radiology community on social media. Follow along on Twitter using hashtags #RSNA18 and #RSNARFC.
Recruiters Row
The annual meeting is the perfect place to connect with organizations offering career opportunities. Visit Recruiters Row in Technical Exhibit South Hall A to meet with employers recruiting at RSNA.
RSNA 2018 attendees are encouraged to bring their laptops and other mobile devices to sessions, exhibits and hands-on sessions throughout the week.