RSNA 2018 Annual Oration in Diagnostic Radiology
Artificial Intelligence, Analytics, and Informatics: The Future is Here
---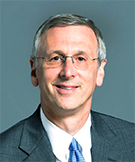 ---
Michael P. Recht, MD, will present the Annual Oration in Diagnostic Radiology on Sunday, Nov. 25 at 8:30 a.m. in the Arie Crown Theater.
In his lecture, Dr. Recht will discuss how radiologists and radiology departments can utilize recent advances in informatics, analytics/business intelligence and artificial intelligence (AI)/machine learning (ML) to allow radiologists to become more integrated into the clinical care team and more visible and "user-friendly" to referring physicians and patients.
His lecture will cover several informatics innovations including virtual rounds and virtual consults, enhanced (multimedia) imaging reports, "collaborative" imaging pathways, radiology-pathology feedback loops and a newly developed patient-centric radiology mobile app.
Dr. Recht will also discuss the importance of measuring and understanding actionable metrics in real time in order to improve workflow, productivity and quality. He will offer examples of how AI and ML can be employed to significantly improve the elements that comprise value in imaging — cost, quality, experience, outcome and appropriateness.
Dr. Recht has served as the Louis Marx Professor and chair of the Department of Radiology at NYU Langone Health, New York City, since 2008. After earning his medical degree at the University of Pennsylvania and completing his radiology residency at the Hospital of the University of Pennsylvania, Dr. Recht completed multiple fellowships including an angiography/interventional fellowship at the Hospital of the University of Pennsylvania, an MR fellowship at the University of Pittsburgh and an osteoradiology fellowship at the University of California at San Diego with Dr. Donald Resnick.
Among his research interests, Dr. Recht is investigating the development of rapid MR protocols for the musculoskeletal system using novel methods of image acquisition and reconstruction, including ML. Equally committed to creating new educational models, Dr. Recht is one of the founders of the National Imaging and Informatics Curriculum and Course co-sponsored by RSNA and the Society for Imaging Informatics in Medicine and an online musculoskeletal core curriculum lecture series for radiology residents. He and colleagues also developed the "Value of Imaging through Comparative Effectiveness (VOICE): A Collaborative Training Program in Biomedical Big Data and Comparative Effectiveness Research" with the help of an National Institutes of Health Research Education Program Grant (R25).
The author of more than 100 peer reviewed publications, Dr. Recht serves as a reviewer for multiple journals. He is deputy editor of Academic Radiology and is on the Editorial Board of Seminars of Musculoskeletal Radiology. Dr. Recht is a member of the board of directors of the Society of Chairs of Academic Radiology Departments and is president-elect of the International Skeletal Society. He has previously served as chair of the Musculoskeletal Committee, American College of Radiology Imaging Network, and chair of the Research Committee, Society of Skeletal Radiology. Currently he is a co-principal investigator of the Research Project Grant (RO1) "Implementation and Evaluation of a Regional Image Share Network."
Web Extras