2018 RSNA Editorial Fellows Announced
Editorial fellows to work with Radiology, RadioGraphics editors.
---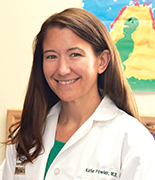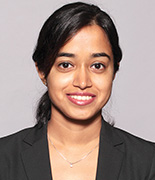 ---
Kathryn J. Fowler, MD, has been named the 2018 RSNA William R. Eyler Editorial Fellow, and Elizabeth George, MD, is the 2018 RSNA William W. Olmsted Trainee Editorial Fellow.

Dr. Fowler recently moved from Mallinckrodt Institute of Radiology, St. Louis, to the University of California San Diego (UCSD), where she serves as an associate professor of diagnostic radiology in the abdominal imaging section. She earned her medical degree from the University of Wisconsin Medical School, Madison, and completed her residency and fellowship in body MRI and abdominal imaging at Mallinckrodt Institute of Radiology.

Dr. Fowler currently serves as an associate editor of body CT on the Radiology Editorial Board and earned the Radiology Editor's Recognition Award in 2014, 2015 and 2016. She is a member of the abdominal imaging and gastrointestinal imaging panels for RadioGraphics and is a reviewer for journals including RadioGraphics, Abdominal Radiology and the American Journal of Roentgenology. Dr Fowler has published more than 100 peer-reviewed manuscripts and chapters.

Dr. George is a fourth-year resident and the chief resident in radiology at Brigham and Women's Hospital, Boston. She earned her medical degree from the All India Institute of Medical Sciences, New Delhi, and completed a research fellowship at Brigham and Women's Hospital prior to her residency. She will complete a neuroradiology fellowship at the University of California, San Francisco, from 2019-2021.

Dr. George received the Society of Cardiovascular CT Young Investigator Award in 2014 and the RSNA Trainee Research Prize in 2016. She serves as a research author on the American College of Radiology (ACR) Appropriateness Criteria Women's Imaging Panel.

Dr. George is a reviewer for journals including International Journal of Cardiovascular Imaging, Journal of Computer Assisted Tomography and Academic Radiology.

Both fellows will work with Radiology Editor David A. Bluemke, MD, PhD, in Madison, WI, and RadioGraphics Editor Jeffrey S. Klein, MD, in Burlington, VT. The Eyler Editorial Fellowship lasts one month and the Olmsted Trainee Editorial Fellowship lasts one week. Each fellow will visit the RSNA Publications Department at RSNA Headquarters in Oak Brook, IL. Dr. Fowler will also work with the Radiology editorial team at RSNA 2018.