RSNA 2018 RSNA/AAPM Symposium: Cynthia H. McCollough, PhD
CT Technology - and Dose - in the 21st Century.
---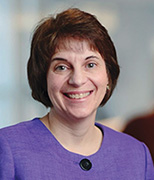 ---
The RSNA/AAPM (American Association of Physicists in Medicine) Symposium, "State of the Art in CT Imaging" will be presented by Denise R. Aberle, MD, and Cynthia H. McCollough, PhD, on Tuesday, Nov. 27, at 10:30 a.m. in Room E451B.

Dr. McCollough will discuss important considerations regarding the use of low-dose CT, including diagnostic performance of the radiologist, during her symposium presentation, "CT Technology - and Dose - in the 21st Century."

A recognized leader in the development and evaluation of new CT technology and dose reduction methods, Dr. McCollough is the president-elect of the American Association of Physicists in Medicine (AAPM) and a professor of biomedical engineering and medical physics at Mayo Clinic College of Medicine and Science in Rochester, MN.

As the founder and director of Mayo Clinic's CT Clinical Innovation Center, Dr. McCollough has contributed extensively to the field of dual-energy CT, including the non-invasive analysis of urinary stone composition, detection of gout, virtual mono-energetic imaging for enhancement of iodine signal and virtual non-contrast imaging. She is also a leader in the advancement of cardiac CT through the assessment and optimization of image quality and dose performance for both prototype and commercial systems.

Dr. McCollough is currently the principal investigator on several NIH-funded projects. In her sub-milliSievert CT U01 award, her team has assessed radiologist diagnostic performance for a range of clinical tasks as radiation dose is decreased, or for when iterative reconstruction is used. These data, and the validated observer models developed by Dr. McCollough and colleagues, can be used to efficiently optimize CT protocols for any scanner model.

In her bioengineering research partnership R01 award, her team is collaborating with Siemens Healthcare to develop CT techniques capable of detecting changes in vasa vasorum density in carotid arterial walls — a sign of early atherosclerotic disease. As part of this project, they have demonstrated many clinical benefits from the research CT system at their center, which uses a new type of CT detector known as a photon counting detector.

As the former chair of CT physics at Mayo Clinic, Dr. McCollough oversaw the development and use of quantitative imaging in the lung, abdomen, heart and wrist. She was also the chair of the physics subcommittee of the American College of Radiology's CT Accreditation Program, leading the development of the universally-recognized CT Quality Assurance Phantom and Physics Accreditation Program.

She is a member of the U.S. Food and Drug Administration's Advisory Committee on Technical Electronic Product Radiation Safety Standards, a member of the U.S. National Advisory Council to the International Electrotechnical Commission, and has served as a board member of the National Council on Radiation Protection and Measurements.

Dr. McCollough received her master's and doctorate degrees in medical physics at the University of Wisconsin, Madison, after graduating summa cum laude with an undergraduate degree in physics from Hope College in Holland, MI.

Dr. McCollough currently serves as a member of the RSNA RadLex CT Committee. She previously served as third vice president of the RSNA Board of Directors, a member of the RSNA physics scientific program committee, a member of the Radiology editorial board and as the AAPM board liaison to the RSNA Refresher Course Committee.