RSNA 2017 Gold Medal George S. Bisset III, MD
---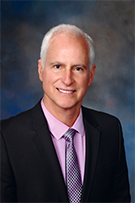 ---
In a career spanning four decades, George S. Bisset, III, MD, has earned a reputation as a preeminent authority on pediatric imaging and a world-class educator who has helped shape the next generation of radiologists.
"Dr. Bisset is a respected leader in academic radiology," RSNA President Richard L. Ehman, MD, said. "During his term of service on the RSNA Board of Directors and then as RSNA president in 2012, Dr. Bisset was particularly committed to expanding the educational initiatives of RSNA through innovative programs to move the specialty forward. Dr. Bisset served the interests of patients everywhere as an articulate and committed champion of the groundbreaking Alliance for Radiation Safety in Pediatric Imaging, the force behind the Image Gently® campaign to reduce radiation dose during pediatric imaging examinations."
Dr. Bisset is a professor of radiology at Baylor College of Medicine and Radiologist-in-Chief and Edward B. Singleton Chair of Radiology at Texas Children's Hospital, Houston.
Dr. Bisset earned a medical degree from the University of South Florida and began his career as an assistant professor of pediatrics and co-director of the Section of Pediatric Cardiology at Tulane University in New Orleans. He ascended the ranks in pediatrics and radiology at the University of Cincinnati, serving as chief of the Section of Body Imaging. He then moved to Duke University in Durham, NC, where he spent the next 16 years serving as a professor of radiology, chief of the Division of Pediatric Radiology, and vice chair, as well as interim chair of the Department of Radiology, before moving to his current position in Houston.
As a researcher, Dr. Bisset has focused primarily on cross-sectional imaging with an emphasis on MRI. He has authored or co-authored more than 200 articles and has served as a reviewer for journals including Radiology, Pediatric Radiology and the American Journal of Roentgenology.
Among his many honors, Dr. Bisset takes great pride in having received the Distinguished Alumni Award from the University of South Florida in 1996. He received the Society for Pediatric Radiology John Caffey Award in 2001 and the Pioneer Award in 2012. He was awarded Honorary Membership in the Austrian and German Societies of Radiology, the Colombian Association of Radiology, the Mexican Society of Radiology, the European Society of Radiology and the Sociedade Paulista de Radiologia. He is a Fellow of the American College of Radiology.