Elias A. Zerhouni, MDRSNA 2017 Opening SessionImaging Innovation in 21st Century Biomedicine — Challenges and Opportunities
---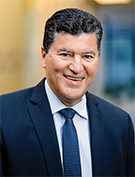 ---
Elias A. Zerhouni, MD, will discuss the role imaging plays in biomedicine and in realizing the core goal of personalized medicine: intervening before deterioration of function by predicting which patients will most likely benefit from novel therapeutics. His lecture is entitled, "Imaging Innovation in 21st Century Biomedicine – Challenges and Opportunities."
A world renowned leader in radiology and medicine, Dr. Zerhouni serves as president of Global Research & Development, and as a member of the executive committee at Sanofi, a Paris-based global leader in diversified healthcare solutions.
From 2002 to 2008, Dr. Zerhouni served as director of the National Institutes of Health (NIH), where his achievements include launching the NIH Roadmap for Medical Research, a collection of initiatives designed to transform the nation's medical research capabilities and improve the translation of research into practice. He also developed a new office to change the way NIH finds and funds cutting-edge research.
Dr. Zerhouni spent his academic career at Johns Hopkins University, Baltimore, where he served as chair of the Russell H. Morgan Department of Radiology and Radiological Science as well as executive vice dean of the School of Medicine, from 1996 to 2002.
In November 2009, former President Obama appointed Dr. Zerhouni as one of the first presidential U.S. science envoys.
As a researcher, he is credited with developing imaging methods used for diagnosing cancer and cardiovascular disease. Dr. Zerhouni is one of the world's premier experts in MRI, extending the role of MRI from taking snapshots of gross anatomy to visualizing how the body works at the molecular level.
Dr. Zerhouni has founded or co-founded five start-up companies, authored more than 200 publications and holds eight patents.
Among his numerous honors, Dr. Zerhouni was elected to the U.S. National Academy of Medicine, the U.S. National Academy of Engineering and the Institute of Medicine of the National Academy of Sciences. RSNA awarded him a Gold Medal in 2010.