Bulas Named RSNA 2017 Outstanding Educator
Recognized for educational outreach in pediatric radiology
---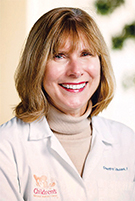 ---
Dorothy Bulas, MD, will be recognized as the RSNA 2017 Outstanding Educator. Throughout her career, Dr. Bulas has focused her attention on education and international outreach. She is a professor of pediatrics and radiology at the George Washington University School of Medicine and Health Sciences, and serves as vice chief of academic affairs, program director of pediatric radiology and section head of ultrasound and fetal imaging at Children's National Medical Center in Washington, DC.
"In addition to being a talented clinician and an accomplished researcher, Dr. Bulas is an extraordinary teacher who has made tireless contributions to the educational programs of RSNA," said RSNA President Richard L. Ehman, MD. "For more than three decades, she has been a passionate and effective advocate for improving pediatric radiology worldwide by participating in educational outreach."
Dr. Bulas has delivered over 120 national and international invited lectures and has helped plan pediatric radiology conferences across the globe.
A founding member of the World Federation of Pediatric Imaging (WFPI), Dr. Bulas is past secretary of WFPI and past chair of the WFPI Education Committee. She currently serves as chair of the American College of Radiology (ACR) Foundation's international outreach committee. As a past president of the Society for Pediatric Radiology (SPR), she helped organize the combined European Society of Paediatric Radiology/SPR 2011 International Pediatric Radiology meeting in London.
Dr. Bulas volunteers her time to improve pediatric radiology education, having served on the ACR Pediatric Radiology Practice Guidelines Committee and as section chair for certificate of qualification in pediatrics for the American Board of Radiology. She has chaired the Accreditation Council for Graduate Medical Education milestones committee for the pediatric radiology fellowship program and also served on the milestones committee for radiology residency.
She has served as faculty for numerous RSNA annual meetings and also as a track chair on the Refresher Course Committee. She is a member of the RSNA Public Information Committee and the Public Information Advisors Network and traveled with the RSNA International Visiting Professors program in 2016 to Ghana. An advocate for safety in pediatric radiology, Dr. Bulas served as a member of the Image Gently® alliance steering committee.
After graduating cum laude from Lehigh University, Bethlehem, PA, Dr. Bulas completed her medical degree at the Medical College of Pennsylvania in Philadelphia. She went on to complete a pediatric residency at New York Hospital and her radiology residency at the Albert Einstein School of Medicine in New York City. She is a fellow of the American Institute of Ultrasound in Medicine, the American College of Radiology, Society of Radiologists in Ultrasound and American Association of Pediatrics.
The Outstanding Educator award will be presented on Sunday, Nov. 26 at 8:30 a.m. in the Arie Crown Theater.