3D Printed Models Move Complex Surgery in Exciting New Directions
Radiology plays a critical role in creating the images used to develop models for complicated surgical procedures.
BY RICHARD DARGAN
July 01, 2017
Editor's Note:
This is the second in a three-part series on the 3D printing explosion in radiology. Read parts one and three.
In recent years, 3D printing has expanded into many areas of medicine, but perhaps none more significant than in the modeling of complex pathology for surgical procedures. Surgeons around the world are driving this growth by requesting 3-D models to assist in surgical planning. Radiology plays a critical role in creating the images used to develop the models.
"I think it speaks volumes as to the utility of the technology for patient care that, even in today's high-tech operating rooms, expert surgeons keep asking for 3D printed models even though they recognize this is not a routine clinical service," said Dimitris Mitsouras, PhD, an assistant professor of radiology at Brigham and Women's Hospital in Boston (BWH), and a member of the RSNA 3D Printing Special Interest Group (SIG).
As director of the hospital's Applied Imaging Laboratory, Dr. Mitsouras has assisted vascular, orthopedic and thoracic surgeons in preparing for surgery. On one occasion, he assisted a neuroradiologist who was attempting to perform a second cryoablation of a bone tumor in the spine of a 17-year-old patient.
The first ablation had been incomplete, leaving the patient in pain. But the remaining tumor was close to a nerve root and the neuroradiologist was concerned that the cryoblation process, which involves drilling into the bone and inserting a probe to freeze the tumor tissue, might damage the nerve.
Enter Dr. Mitsouras.
---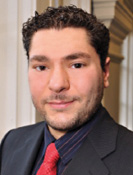 ---
Using a combination of CT and MRI, along with different mixtures of materials and lots of persistence, Dr. Mitsouras was able to craft models that conveyed the patient's tumor, bone, cerebrospinal fluid and the fat encasing the at-risk nerve root.
The simulation of the CT and MR image-guided procedure on the model revealed an atypically-shaped tumor that would have been difficult to access had the initially-planned two-path tract approach been attempted.
The model helped Thomas Lee, MD, assistant section chief of neuroradiology at BWH, to determine that a single approach through the contralateral side of the spinous process would allow the ice ball to cover the entirety of the residual tumor without endangering the nerve.
"This was the first time we had ever used a contralateral approach, and frankly we would not have thought of it had we not had the model," Dr. Mitsouras said. "As a result, today there is a young man out there who can live a full, pain-free life without a neurological deficit."
3D Printing Charts New Surgical Territory
Pediatric radiologist Sanjay Prabhu, MD, has used 3D printing to tackle daunting challenges he routinely faces at Boston Children's Hospital (BCH), where he also serves as clinical director of the hospital's SIMPeds 3D Print Service, the in-house rapid 3D printing and prototyping service for surgical pre-planning (see sidebar).

Surgical teams at BCH often use 3D models to practice on rarely seen conditions that even experienced surgeons likely have not faced. In one case, Dr. Prabhu and his team printed 10 separate models for a child born with craniosynostosis, a condition in which the bones of the skull fuse in an abnormal fashion. The models allowed John Meara, MD, DMD, plastic surgeon-in-chief at BCH, to perform 10 practice procedures before choosing the best approach.
---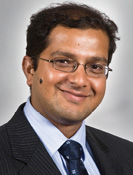 ---
"Every surgeon knows that there is an element of uncertainty on the operating room table," Dr. Prabhu said. "Anything you can do to reduce that is good for the patient."

In another case, the clinicians sought to develop a surgical plan for a four-month-old boy whose skull had failed to properly close at the top, leaving much of his brain exposed. The fluid-filled cavity that surrounded the boy's brain was growing larger and larger.

"He had been seen elsewhere and they had all said, 'There's nothing we can do for this child,'" Dr. Prabhu recalled.

Incisions were needed in the child's skull. Dr. Prabhu used virtual 3-D modeling on the computer to determine the necessary cuts, which he then translated to a physical model for simulation. The model was used as a template to make cuts on the patient for the surgery, which was ultimately successful.

Another common use of 3-D printing at Boston Children's is in patients with scoliosis who need screws put in their backs to fuse the spine. In the past, screws put in place in the operating room were often too large, causing the children to develop post-procedural ulcers. The 3-D models allow surgeons to find the proper size screws before surgery, mitigating the need for additional treatment.

"These 3-D models have made a big difference for patient management," Dr. Prabhu said. "They've helped decrease sedation and blood loss and the time a child spends in surgery."
3D Printed Models Aid U.S. Service Members and Veterans
The U.S. government has been at the forefront of the 3D printing revolution, developing a wide range of applications for the technology since the early 2000s.

One of the most advanced printing facilities in the country, the 3D Medical Applications Center at Walter Reed National Military Medical Center in Bethesda, MD, creates custom pre- and post-surgical models, custom surgical guides and templates, custom cranial implants, prosthetic components and simulation models for training (see sidebar).

"We get more than 300 orders a year, and the number of models we make is at least double that," said Peter Liacouras, PhD, director of services for the center.

Dr. Liacouras and staff use 3D digital technology and 3D printers — including a titanium printer — to create prosthetics and rehabilitation attachments, devices and components customized for active duty military and veteran members. CT imaging and reconstructions of the existing geometry aid in the design and construction of new 3D printed components.

One example of a custom prosthetic and rehabilitation attachment is "shorty feet," which allows bilateral above-the-knee amputees to move without their full prosthetics.

"Other patient-specific prosthetic components have included hockey skate adapters, rock climbing gear, steering wheel adapters and toothbrush holders."

"These are all areas where the normal prosthetic limb and rehabilitation devices available had limitations," Dr. Liacouras said. "This is a great help for patients who want to get back to the quality of life they had before."


CT Still Superior for 3D Models
CT remains the ideal modality for 3D models due to its superior resolution and consistent image quality, said Dr. Mitsouras. It is more difficult to produce a model from MR images due to the lower resolution, the increased chance for artifacts such as motion, and the limitation of available post-processing software and workflows.

Beyond MRI, nuclear medicine is also being studied as a complement to CT. An application recently developed by Jonathan M. Morris, MD, and Jane Matsumoto, MD, at the Mayo Clinic in Rochester, MN, enables models to convey not only anatomy, but also tumor metabolic activity. Dr. Morris is chair of RSNA's 3D Printing Special Interest Group.

Regardless of what modality is used, quality images and a firm understanding of anatomy and pathology are critical to getting the best models made — a fact that underscores the importance of radiologists in the growing field.

"If you can't image something, you won't see it, and radiologists understand better than anyone how to image something," Dr. Prabhu said.
3-D Printing Centers Break New Ground in Patient Care
Boston Children's Hospital's SIMPeds 3D Print Service is an in-house rapid 3D printing and prototyping service for surgical pre-planning, pediatric device discovery, production and research. State of the art printers, machines, radiologic and technical expertise operate under one roof.
Any part of the anatomy that can be visibly distinguished on CT/MR can be printed in 3D, as well as mechanical devices and products. With the addition of special effects expertise, "feel" and materials can often also be crafted to reflect the real thing.
For more information, go to
simpeds.org/simpeds3d-print
.
The Walter Reed National Military Medical Center's 3D Medical Applications Center (pictured, above) provides computer-aided design (CAD) and computer-aided manufacturing (CAM) to create medical models and custom implants, provide technical support for virtual treatment planning, and image capture in support of patient treatment, graduate medical/dental education and research.