Screening MRI Benefits Women at Average Risk of Breast Cancer
---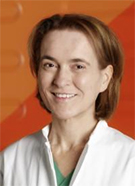 ---
In women at average risk for breast cancer, MRI screening improves early diagnosis of prognostically relevant breast cancer, new Radiology research shows.
Christiane K. Kuhl, MD, chair of the Department of Radiology at RWTH Aachen University, Aachen, Germany, and colleagues conducted the study at two academic breast centers in women aged 40 to 70 years without breast cancer-associated risk factors.
Between January 2005 and December 2013, women with at least minimal residual breast tissue and normal conventional imaging findings were invited to undergo supplemental MRI screening. A total of 2,120 women were recruited and underwent 3,861 screening MRI studies, covering an observation period of 7,007 women-years.
Breast MRI detected 60 additional breast cancers, including 40 invasive cancers, for an overall supplemental detection rate of 15.5 per 1,000 women. Of the 60 cancers detected in the study group over the observation period, 59 were found using only MRI, one was also found by mammography, and none were found by mammography or ultrasound alone.
"Our results suggest that MR imaging can serve as a useful supplemental screening tool in women at average risk for breast cancer, especially those with dense mammographic tissue," the authors write.
Web Extras