Member Spotlight: Phan T. Huynh, MD
Dr. Huynh completed his radiology residency at the University of Virginia, followed by a fellowship in breast imaging at the University of Virginia and Medical College of Virginia. He is Medical Director of the Women's Center at Baylor St. Luke's Medical Center in Houston, TX. Dr. Huynh is the chairman of the RSNA Research & Education (R&E) Foundation Fund Development Committee and a Platinum Centennial Pathfinder Campaign donor
BY PHAN T. HUYNH, MD
April 01, 2017
---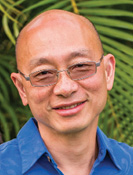 ---
What or who sparked your interest in radiology?
As a medical student, I was fascinated with the advances of interventional radiology. I have been so blessed to have so many mentors and role models. Dr. Charles J. Tegtmeyer was an innovator and skilled clinician who taught me the importance of quality imaging. Dr. Ellen Shaw de Paredes was instrumental in my development as a teacher and a breast imager. Dr. Bruce Hillman emphasized the critical relevance of imaging research in the evolution of our specialty. They all share a burning passion for our profession.
What would you describe as the biggest professional challenge you face today?
Consolidation of radiology practices is underway in many communities across the country. It is difficult to recruit and retain young, talented colleagues in the face of uncertainty in our healthcare system.
What is the biggest reward?
This is an easy one. Breast imaging allows radiologists to be at the center of care for patients with breast concerns. The answer begins and ends with my ongoing relationship with my patients.
How does volunteering for RSNA help you in your daily practice?
Reviewing manuscripts for Radiology and RadioGraphics helps me keep up with the continuing evolution of our specialty. Volunteering for the R&E Foundation provides me a concrete avenue to give back and move radiology forward.
How do you like to spend your free time?
There is no greater joy than spending time with my two boys, Ethan and Adrian. I recently picked up running and I just finished my first half-marathon.