Derek Harwood-Nash Fellowship Opens Doors for International Radiologists
A radiologist from Nepal learned valuable radiology lessons at a U.S. hospital through his 2015 RSNA Derek Harwood-Nash Fellowship
BY PAUL LATOUR
May 01, 2016
---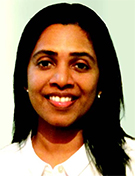 ---
"Exposure to radiology services at a U.S. hospital was overwhelming," said Dr. Subedi, a radiologist in the Department of Radiology at Tribhuvan University Teaching Hospital in Kathmandu, Nepal. "The state-of-the-art technology and expertise in every subspecialty of radiology was truly impressive."
As a 2015 Derek Harwood-Nash International Fellow, Dr. Subedi studied musculoskeletal radiology and MRI at Case Western Reserve University & University Hospitals in Cleveland. "Every day was a new learning experience," said Dr. Subedi, crediting department chair Pablo Ros, M.D., Ph.D., for being extremely welcoming and helpful during his eight-week fellowship. Fellowships run from six to 12 weeks, depending on how long recipients can be away from their home institutions. Dr. Subedi said Nepal is gradually catching up with advancements in radiologic technology, but remote areas still lack basic imaging facilities such as X-ray and ultrasound. In contrast, Tribhuvan University Teaching Hospital is a busy institution that caters to patients from all across Nepal. The radiology department has 11 full-time radiologists and utilizes a 128-slice CT scanner, a 0.3T MRI, digital X-ray, ultrasound, mammograghy, digital fluoroscopy and an angiography and interventional suite.
However, PET is still not available anywhere in the country and Dr. Subedi does not have access to high-field MRI or PACS. "Radiology education and research could be taken to new heights in Nepal if we had access to PACS," he said, adding that Nepal still lacks subspecialty-trained radiologists.
Despite the need for more advanced technology, the valuable lessons Dr. Subedi learned in the U.S. will be highly beneficial in Nepal. One example: He used both 1.5T and 3T MRI while learning musculoskeletal MRI at Case Western Reserve University & University Hospitals, while his facility in Nepal uses only 0.3T MRI.
"The fine details that we see in high-field MRI systems is difficult to appreciate in low-field strength magnets, but I learned the level of detail we need to focus on while reporting musculoskeletal MRI," Dr. Subedi said. "I have gained further confidence in musculoskeletal MRI reporting which will definitely help both our patients and radiology residents in Nepal."
Dr. Subedi is hopeful that his facility will soon acquire a highfield strength magnet so that he can further put his knowledge into practice.
Harwood-Nash was Goodwill Ambassador for Radiology
Dr. Subedi is just one of a growing roster of physicians who have benefitted from the RSNA fellowship named for former RSNA Board of Directors member Derek C. Harwood-Nash, M.B. Ch.B., D.Sc., who died in October 1996. Dr. Harwood- Nash was a long-time goodwill ambassador for radiology, who encouraged worldwide cooperation among radiologists.
RSNA's Committee on International Radiology Education (CIRE) established the Derek Harwood-Nash International Fellowship in 1998. Since then, 36 fellows representing 24 nations have participated in the program. The program began with one participant, expanded to two in 2004, added a third in 2013 and a fourth in 2016.
"The fellowship has truly become a tribute to everything Derek Harwood-Nash embodied," said Kristen K. DeStigter, M.D., chairof CIRE and former chair of the Derek Harwood-Nash Fellowship Subcommittee. "It's the kind of program I perceive he would want to see. The fellowship helps create career opportunities in focused areas for those who then contribute to the growth of our profession. It's heartening to witness these fellows giving back."
From the beginning, the program has been a success. In 2014, CIRE began to measure outcomes by establishing an evaluation process for fellows to complete at three stages upon returning to their home institutions: one year, two years and three years.
Although just one group has completed the first stage of the process, Dr. DeStigter said the data collected have been impressive:
Fifty-seven percent of recipients' time at their home institutions was spent practicing the clinical subspecialties covered during the fellowships.
Thirty percent of their time was spent teaching in that subspecialty in their home country.
Thirteen percent of their time was spent doing research in that subspecialty. That research yielded an average of six lectures per fellow, the teaching of more than 130 residents and 20 active research studies, resulting in seven published articles. Each fellow also submitted one abstract accepted for an international meeting.
In addition, Dr. DeStigter said the fellows had performed almost 6,000 patient studies or procedures in their subspecialty areas.
"That means that thousands of patients have received the benefit of this subspecialty training immediately upon the fellows' return to their home country," Dr. DeStigter said. "Not only are we impacting these fellows from an academic perspective, but we're also impacting patient care and health services delivery in their home countries. RSNA can be really proud of this."
2016 Fellow Plans to Aid Pediatric Care in India
One such example comes from a physician who plans to bring back to her native India lessons learned during her six-week 2016 Derek Harwood-Nash Fellowship.
Sniya V. Sudhakar, D.N.B., F.R.C.R., who is studying pediatric neuroradiology at the University of Toronto in April, would like to translate the knowledge and experience she gains into better patient care for the large pediatric population of her home institution, the Christian Medical College in Vellore, India.
"Pediatric neuroradiology is one of the most dynamic and challenging fields of medicine and has a very steep learning curve. It would take years of dedicated study and experience to become adept in it. I want to explore this opportunity of training to advance and enhance my knowledge and experience in the field," Dr. Sudhakar said, adding that the University of Toronto is considered the mecca of pediatric neuroradiology.
While at Toronto, Dr. Sudhakar works in the university's Hospital for Sick Children, known as SickKids. The facility's radiologist-in-chief is Manohar Shroff, M.D., F.R.C.P., who was instrumental in Dr. Sudhakar's path to the fellowship and who knew Dr. Harwood-Nash.
"Dr. Shroff mentioned how fortunate he was to meet the legend and how Dr. Harwood-Nash was instrumental in his own pursuit of pediatric neuroradiology. Having a keen interest in pediatric neuroradiology and its history, I realized this was a tremendous opportunity," said Dr. Sudhakar, who began her fellowship April 15.
Along with Dr. Sudhakar, the other 2016 fellowship recipients are Abraham Inikori, M.D., of Nigeria, and Wai Wai Htun, M.B.B.S., M.Med.Sc., of Myanmar. Dr. Inikori will study body imaging at the University of Virginia Health System from Aug. 1 to Oct. 21. Dr. Htun will study CT/MRI at the Lahey Hospital & Medical Center in Burlington, Mass., from Sept. 5 to Nov. 25.
Applicants Sought for 2017 Derek Harwood-Nash Fellowship
Applications for the 2017 Derek Harwood-Nash International Fellowship Program are being accepted through July 1. Interested candidates must be promising international radiology scholars who have completed radiology training, are embarkingon a career in academic radiology (i.e., have held a faculty position for three to 10 years), and who demonstrate that their specificeducational goals can be met most appropriately by a course of study in a North American institution.
Qualified candidates must also specify how the knowledge and experience gained from this fellowship will benefit and improve the practice of radiology in both the home institution and the radiologic community. English proficiency is required. Applications are available at RSNA.org/DHN.