2016 RSNA Editorial Fellows Announced
---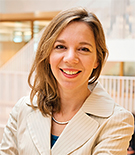 ---
Meike Willemijn Vernooij, MD, PhD, has been named the 2016 RSNA William R. Eyler Editorial Fellow, and Karen Buch, MD, is the 2016 RSNA William W. Olmsted Trainee Editorial Fellow.
Dr. Vernooij is a neuroradiologist, head and neck radiologist and associate professor in radiology at Erasmus MC University Medical Center, in Rotterdam, the Netherlands. A member of the RSNA Education Exhibits Awards Committee, she is also an associate professor in epidemiology at Erasmus MC.
Dr. Vernooij earned her medical degree and postdoctoral degree (PhD) from Erasmus University and completed her residency and clinical fellowship at Erasmus MC. Dr. Vernooij was a visiting scholar at the J. Philip Kistler Sroke Research Center at Massachusetts General Hospital (MGH) in Boston.
Presently, Dr. Vernooij is an associate editor of the Journal of Alzheimer's Disease (JAD) and has been a reviewer for numerous other journals, including the New England Journal of Medicine and the Journal of the American Medical Association.
Dr. Buch, a clinical fellow and graduate assistant at MGH, earned an undergraduate degree in electrical engineering with a second major in biomedical engineering from Tufts University. She graduated from the University of Massachusetts Medical School before completing her diagnostic radiology residency at the Boston University Medical Center in 2015.
Dr. Buch has received numerous prominent national awards, including the 2014 RSNA Roentgen Resident/Fellow Research award and the 2013 RSNA Presidents Circle Research Resident Grant.
Dr. Buch serves as an editor for the American College of Radiology (ACR) Case in Point series and as a reviewer for the American Journal of Roentgenology (AJR).
Both fellows will work with Radiology Editor Herbert Y. Kressel, MD, in Boston, and RadioGraphics Editor Jeffrey S. Klein, MD, in Burlington, Vt. The Eyler Editorial Fellowship lasts one month and the Olmsted Trainee Editorial Fellowship lasts one week. Each fellow will also visit the RSNA Publications Department at RSNA Headquarters in Oak Brook, Ill. Dr. Vernooij will also work with the RSNA editorial team at RSNA 2016.