Ramirez-Arias Receives Health Award from Mexican General Health Council
---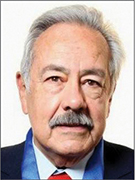 ---
Jose L. Ramirez-Arias, Sr., MD, PhD, a 2000 RSNA Gold Medal honoree, received the Dr. Guillermo Soberón Acevedo Award for Institution Building from Mexico's General Health Council (GHC). The award was presented to Dr. Ramirez-Arias by Mexican President Enrique Pena Nieto and Health Minister Juan Mercedes during a recent World Health Day event in Mexico City.
Dr. Ramirez-Arias, medical director at Hospital Angeles del Pedregal, Mexico, and chair of the radiology departments of Angeles Group Hospitals, was one of nine health merit award recipients honored at the event. Through the awards, the GHC seeks to recognize health professionals who have excelled in the fields of medicine, chemistry and pharmacy, dentistry, nursing and other health areas.
Dr. Ramirez-Arias served as second vice-president on the RSNA Board of Directors from 1996 to 1997 and was also a member of the RSNA Committee on International Radiology Education. He received an RSNA Special Presidential Award in 1996.