Lewin Receives Appointments at Emory University
---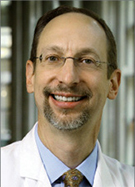 ---
Internationally recognized as a pioneer in interventional and intra-operative MR imaging, Jonathan S. Lewin, M.D., was named executive vice-president for health affairs at Emory University in Atlanta. Dr. Lewin also will serve as executive director for Emory's Woodruff Health Sciences Center, president and CEO of Emory Healthcare, and chair of the Emory Healthcare board of directors. He began his tenure Feb. 1.
Dr. Lewin is the current president of the American Roentgen Ray Society and president-elect of the Society of Chairs of Academic Radiology Department. He is also immediate past-president of the Association of University Radiologists.
Dr. Lewin has served on RSNA's educational course faculty and as a session moderator at RSNA annual meetings. He was named the 2012 RSNA Honored Educator and is a Sapphire Visionary Donor for RSNA's Research & Education (R&E) Foundation.
Prior to his appointment at Emory, Dr. Lewin served as senior vice-president for integrated healthcare delivery and as co-chair for strategic planning for Johns Hopkins Medicine. He also served as professor and chair of the Russell H. Morgan Department of Radiology and Radiological Science at Johns Hopkins University as well as the radiologist-in-chief at Johns Hopkins Hospital.