Hara Named Chair of Diagnostic Radiology at Mayo-Arizona
---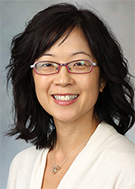 ---
Amy K. Hara, M.D., has been named chair of Diagnostic Radiology at Mayo Clinic's Arizona campus. Dr. Hara, a professor of radiology, joined Mayo Clinic in 2001.
After receiving her medical degree from the University of Missouri, she completed her diagnostic radiology residency at Mayo Clinic in Rochester, Minnesota, and was part of the Clinical-Investigator Training Program. She completed a fellowship in abdominal imaging at Mallinckrodt Institute of Radiology at the Washington University School of Medicine in St. Louis.
Dr. Hara has served as past-chair of the RSNA Education Exhibits Awards Committee and as a session moderator and educational course faculty member during RSNA annual meetings. She is a current member of the RSNA Gastrointestinal Radiology subcommittee of the Scientific Program Committee for the annual meeting.