Business Analytics: the Next Big Imaging Modality?
Basic tools and analytics can help physicians reap the business benefits of "big data," leading to more effective patient care
BY ELIZABETH GARDNER
March 01, 2015
---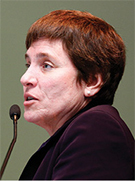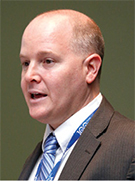 ---
While radiologists are used to analyzing massive amounts of imaging data to produce a diagnosis, they often ignore the equally large amounts of data available to help run their practices more effectively. But basic tools and analytic processes can help physicians reap the business benefits of "big data," as well as to identify patterns that can lead to more effective patient care, according to RSNA 2014 researchers.
"People need to use these tools to help identify where there may be a bottleneck or a resource that isn't fully utilized or is being over-utilized," said Katherine Andriole, Ph.D., of the Center for Evidence-Based Imaging at Brigham and Women's Hospital, Boston, who moderated the session, "The Use of Business Analytics for Improving Radiology Operations, Quality, and Clinical Performance," held in association with the Society for Imaging Informatics in Medicine.
A simple open-source tool that can take in data from multiple sources, such as a PACS, an electronic health record system and imaging modalities, can be used to analyze metrics like equipment utilization and radiation dose information, said Dr. Andriole, who is a member of the RSNA Radiology Informatics Committee (RIC).
But before that analytic step can happen, the data needs to be integrated, or normalized, so that one set of data can be compared with another. The process, extract-transform-load (ETL), has been thoroughly developed for years in other industries, but has only been applied to healthcare relatively recently.
Something as simple as a date–expressed as 11/30/14 in one system and 30.11.14 in another–can create gibberish rather than usable information if the two sets of data aren't made consistent with each other.
"The quality of the data is the piece that makes this a useful process or not," Dr. Andriole said. "If the data integrity is not what it should be, the results won't be what you want."
Key Performance Indicators Critical
Another challenge is figuring out exactly what needs to be measured, or what key performance indicators (KPI) should be. For example, one practice looked at the number of exams performed with each of its scanners. While one scanner was used for substantially fewer exams than the others, it turned out that scanner was actually overbooked because its hours of operation were shorter. Dr. Andriole recommended a more sophisticated KPI that looked at each scanner's hours of use as a percentage of the number of hours available.
Analytics Reveals "Invisible World of Patient Flow"
Presenter Paul Nagy, Ph.D., director of the Medical Technology Innovation Center at Johns Hopkins University, recommended that analytics programs be regarded as a new imaging modality—one that reveals the previously invisible world of patient flow.
"The next big imaging modality won't be a PET/CT scanner, but Big Data, and it's going to cost as much as other imaging modalities if you do it right," he said.
Even in the current environment, advanced analytics can pinpoint operational problems and help identify explanations and solutions. For example, an analytics program can present a visual representation of how a CT scanner is used during a single day. "If it looks like a comb—if there's consistently too much space between procedures—it identifies inefficient scheduling," such as new machine that doesn't take as long to do exams, Dr. Nagy said. "That's hard to see if you're just looking at the data, but the human brain is such a good detection system that if we visualize the data, we can easily see bizarre patterns."
Any number of causes could create gaps in the comb—no-show patients, lack of demand for the scanner or some other reason. Sometimes delays from earlier in the day or elsewhere in the organization can have ripple effects. "You have to understand the flow of the system and not punish physicians for a systemic delay," he said.
Applications of analytics, including a program that tracks radiation dose or physician follow-up on incidental findings, and a program that helps residents track what studies they've read and determine the accuracy of their readings, were discussed by Tessa Cook, M.D., assistant professor of radiology at the University of Pennsylvania Medical School, and a member of the RIC and the RSNA Medical Imaging Resource Center (MIRC®) Subcommittee.
While dose information from scanners isn't a perfect representation of how much radiation a patient receives, it can serve as a proxy to start reevaluating imaging protocols, Dr. Cook said. The biggest challenge is standardizing the data. "Some of it appears as pixels on an image, rather than as structured data," Dr. Cook said.