Bisset, Resnick Honored at JPR
---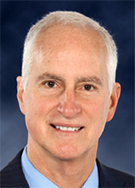 ---
RSNA past-president George S. Bisset III, M.D., and Donald L. Resnick, M.D., were honored during the recent 2015 Jornada Paulista de Radiologia (JPR) annual meeting in Sao Paolo, Brazil.
JPR, organized by the Sociedade Paulista de Radiologia (SPR), is the largest diagnostic imaging meeting in Latin America. RSNA began a partnership with SPR to co-sponsor the event in 2014 and will continue as a co-sponsor in 2016 and 2018.
Dr. Bisset, Chief and Edward B. Singleton Endowed Chair of Pediatric Radiology at Texas Children's Hospital and Professor of Radiology at Baylor College of Medicine, both in Houston, and 2012 RSNA President, was named an honorary member at JPR 2015. Dr. Bisset served on the JPR 2014 program planning committee.
Dr. Resnick, professor of radiology and chief of osteoradiology at the University of California, San Diego (UCSD), was named the JPR 2015 president of honor. He was recognized for training over 150 Brazilian research fellows at UCSD. He is a member of the RSNA Public Information Advisors Network and was named the 2006 RSNA Outstanding Educator.