MITA Names Hope Executive Director
---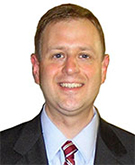 ---
The National Electrical Manufacturers Association (NEMA) has named Patrick Hope as executive director of its Medical Imaging and Technology Alliance (MITA).
Prior to joining MITA, Hope served as senior director of legislative policy for the American College of Cardiology (ACC). Before his position at ACC, Hope served as legislative counsel/senior manager of legislative affairs for the American College of Physicians.
Hope replaces Gail Rodriguez, Ph.D., who served as MITA executive director since 2012.
MITA, a standards-development organization for medical imaging and radiation therapy equipment, is the collective voice of medical imaging equipment manufacturers, innovators and product developers. It represents companies whose sales comprise more than 90 percent of the global market for medical imaging technology.
Beginning January 1, 2016, the nation's healthcare providers will be required to ensure their CT scanners comply with the radiation dose optimization standard—the XR-29/MITA Smart Dose—in order to avoid a cut in Medicare reimbursement for certain CT scanners.