RSNA Sessions Focus on Lung Cancer Screening, Biopsy
Research sheds light on the value—and barriers—associated with CT lung cancer screening and assesses CT-guided lung biopsy
BY MIKE BASSETT
January 01, 2015
---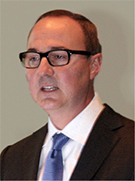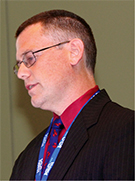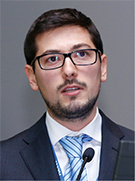 ---
Although more and more of the country's leading academic medical centers are offering CT lung cancer screening, many still aren't screening large numbers of patients, according to a survey presented at RSNA 2014.
Conducted in March 2014, the survey was emailed to thoracic radiologists at 21 academic medical centers identified from the 2012-2013 U.S. News and World Report listings of top hospitals, cancer centers and pulmonary medicine centers. The survey follows up on one conducted in March 2013.
Of the 20 survey respondents, 95 percent (19) have an active screening program, an increase from 79 percent in 2013. However, just five or fewer patients are scanned per week at 14 of the 19 sites, while only one site scans more than 20 patients per week, said presenter Phillip Boiselle, M.D., a radiology professor at Beth Israel Deaconess Medical Center in Boston.
"We expected that more programs would be screening, but it was a surprise that so few patients were being screened at individual sites," Dr. Boiselle said. "While we didn't address the question of why centers are reaching so few patients, I think a contributing factor was the lack of broad coverage at the time of the survey." For example, about half of the survey respondents reported that almost all of their patients were being screened on a self-pay basis, Dr. Boiselle said.
Daily Bulletin coverage of RSNA 2014 is available at RSNA.org/bulletin
"I think cost has been a very important barrier to this test," said Dr. Boiselle, stressing that financial barriers might change now that the Centers for Medicare and Medicaid Services has issued a preliminary decision to cover low-dose CT lung cancer screening for eligible patients. "If, as anticipated, this proposal is approved, it will remove the important barrier of cost for seniors who meet eligibility requirements for screening," Dr. Boiselle continued. "When you couple that with forthcoming coverage from private insurers as mandated by the Affordable Care Act, we anticipate seeing a much larger number of patients being screened, not only at these sites, but also at other sites across the country."
Study Shows Value of CT Lung Cancer Screening
Brady McKee, M.D., a radiologist at Lahey Hospital & Medical Center in Burlington, Mass., presented a study suggesting that expanding the eligibility requirements for CT lung cancer screening could save thousands of additional lives.
When Lahey began its low-dose screening program in 2012, only one set of guidelines was available—those of the National Comprehensive Cancer Network (NCCN)—which recommend CT lung screening for patients in two high-risk groups.
Group 1 is essentially the same population studied in the National Lung Screening Trial (NLST)—adults ages 55 to 74 years who have a 30 pack-year smoking history and currently smoke or have quit within the past 15 years. But the second high-risk group recommended for screening is younger and smoked less—50 years or older with a 20 pack-year history of smoking. Group 2, however, is also defined as having one additional risk factor such as other lung disease or a family history of lung cancer. Lahey chose to screen both groups.
In their study, Dr. McKee and his colleagues retrospectively reviewed the results of all CT lung-screening exams from January through December 2012 and compared the demographic characteristics of and screening results for the 1,302 patients in Group 1 and 458 patients in Group 2.
"There were significant [demographic] differences between Group 2 and Group 1," Dr. McKee said, pointing out that the average patient in Group 2 was younger, smoked less, was less likely to be a current smoker, and if a former smoker, had gone a longer time without smoking than his or her Group 1 counterpart.
Despite these demographic differences, the screening results for the two groups were similar. For example, 28 percent of individuals in Group 1 had positive exams compared to 25 percent in Group 2; 6.1 percent in both groups had at least one clinically significant incidental finding; and 6.6 percent in Group 1 and 6.1 percent in Group 2 had findings suspicious for pulmonary infection. Six cases (1.8 percent) of lung cancer were diagnosed in in Group 2 and 17 (1.6 percent) cases were diagnosed in Group 1.
Since the screening results were similar for both groups, opening up screening programs to individuals from Group 2 could save thousands of additional lives each year, Dr. McKee said. At Lahey, a little more than a quarter of the individuals screened for lung cancer came from Group 2. "If we know there are something like 7 to 9 million people in the U.S. who meet the Group 1 criteria, it could mean there are 2 to 3 million who meet the Group 2 criteria," he said. "This at least provides a ballpark estimate about what opening up screening to this group would look like so that we can project how many additional lives can be saved."
Robotic System for CT-guided Biopsies of Lung Lesions Shows Promise
Robot-assisted CT-guided biopsy of lung lesions can be used safely and accurately, particularly compared to conventional CT-guided biopsy techniques, according to new research presented at RSNA 2014.
While CT-guided lung biopsy has become the standard procedure for obtaining a diagnosis of pulmonary lesions that are suspicious for malignancy, the two ways in which this procedure is usually performed—the "step-and-shoot" and fluoroscopic techniques—have their limitations, said presenter Andrea Porfiri, M.D., of the Department of Radiological Sciences, Sapienza University of Rome.
According to Dr. Porfiri, the step-and-shoot technique relies on the operator's subjective assessment of needle path and positioning, which could result in longer procedure times with an increased risk of complications. On the other hand, the fluoroscopic technique is more accurate than the step-and-shoot technique when targeting smaller nodules, is of shorter duration and yields significantly lower complication rates. However, it is associated with a significant increase in radiation dose to both operator and patient.
"In both of these manual techniques, successful application depends significantly on the operator's manual skill and experience," Dr. Porfiri said. Consequently, he and his colleagues at Sapienza University wanted to assess the clinical performance of a dedicated robotic system compared to these conventional manual techniques.
For purposes of the study, 100 patients (63 males and 37 females between the ages of 48 and 88) who were referred for CT-guided lung biopsy of previously diagnosed lung lesions were randomly assigned to undergo a robot-assisted procedure or a conventional biopsy using the step-and-shoot technique.
According to Dr. Porfiri, the duration of the robot-assisted procedure ranged between 10 and 31 minutes—significantly less than the 18 to 42 minutes for the conventional procedure. Radiation dose was significantly reduced with the robot-assisted procedure, as well.
Dr. Porfiri and his colleagues determined that the diagnostic performance of robot-assisted procedure was similar to the manual procedure, with four patients requiring re-biopsy after the robotic procedure and three patients requiring re-biopsy after the manual procedure. They also found that the complication rates were similar.
"The result of our study demonstrates that the robot-assisted lung biopsy is accurate and safe, and the robot-assisted procedure can also reduce procedure duration and radiation dose compared to the conventional approaches," Dr. Porfiri said.
"Our study was performed by two operators (with 2 and 8 years experience performing CT-guided lung biopsies), and although a statistical analysis has not been performed to evaluate differences between the two operators, what impressed us was the reduction in time needed by both operators to complete the procedure in the robot-assisted approach, compared to the unassisted technique," said Michele Anzidei, M.D., also of the Department of Radiological Sciences, Sapienza University, and the study's lead author.
While he expected to see that reduction in time for a less experienced operator, he was surprised to see a reduction in time for the experienced operator as well.
"Future research should be aimed at evaluating how operators with different levels of experience may benefit from robot assistance in daily clinical routine, and to assess potential differences in the clinical performance of robot-assisted procedures between expert and non-expert radiologists," Dr. Anzidei said.
"While we obtained encouraging results, these should be verified and reproduced on a larger number of patients, preferably in a multi-centric study," Dr. Anzidei concluded.
RSNA Journal Editors Give Input on Seminal Cardiopulmonary Imaging Research
Editors of the RSNA peer-reviewed journals Radiology and RadioGraphics were among 30 international cardiopulmonary imaging leaders asked to select the most influential Journal of Thoracic Imaging (JTI) article published in the last 30 years in celebration of the journal's 30th anniversary. RSNA 2014 presenter Phillip Boiselle, M.D., is the editor of JTI.
In one example, Alexander A. Bankier, M.D., Ph.D, deputy editor of Radiology and a professor of radiology at Harvard Medical School, selected the 1996 article "Anatomic distribution and histopathologic patterns in diffuse lung disease: Correlation with HRCT," by Thomas Colby, M.D., and Steven Swensen, M.D.
RadioGraphics' Editor Jeffrey S. Klein, M.D., a radiology professor at the University of Vermont, selected a 1999 article by Chaan Ng, M.B.B.S., and colleagues, "A CT Sign of Chronic Pulmonary Arterial Hypertension: The Ratio of Main Pulmonary Artery to Aortic Diameter."
Collected responses are available online at thoracicimaging.com.
Videos
Phillip Boiselle, M.D., discusses his RSNA 2014 research on "Trends in CT Screening for Lung Cancer at Leading Academic Medical Centers," including:
Brady McKee, M.D. discusses his RSNA 2014 research on "Demographic Characteristics and Results of National Comprehensive Cancer Network High-risk Group 2 in a Clinical CT Lung Screening Program," including: