MRI-guided Technique Creates 3-D Roadmap of the Prostate
A prostate cancer detection technique that combines MR imaging technology with ultrasound is helping urologists target biopsies
BY ED BANNON
April 01, 2015
---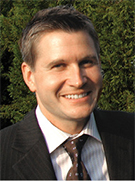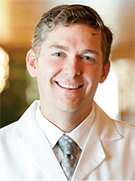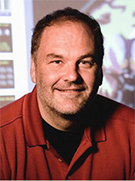 ---
A prostate cancer detection technique that combines MR imaging technology with ultrasound "is like GPS for urologists" who currently have to rely on a less accurate map to locate their biopsy samples, says one radiologist who is pioneering the technique's clinical use.
The procedure overlays the results of an MR scan onto an ultrasound image to help urologists target lesions, said David Karow, M.D., Ph.D., an assistant professor in the department of radiology at the University of California, San Diego (UCSD). The MR overlay of problem regions in the prostate offers a potentially significant advantage in the diagnosis and treatment of prostate cancer.
"The new MRI technique allows us to work in concert with our colleagues in urology to make their biopsies more reliable," Dr. Karow said.
Dr. Karow teamed up with urologists J. Kellogg Parsons, M.D., M.H.D., associate professor, and Christopher Kane, M.D., professor and chair in the Department of Urology at UCSD Moores Cancer Center, to introduce the technique at Moores. They use sophisticated new tools and software—DynaCAD for Prostate with the UroNav fusion biopsy system—to combine the MRI with real-time, ultrasound-guided biopsy images in the clinic to create a 3-D map of the prostate. The technique is already in use in clinical procedures at UCSD.
"With an ultrasound exam we are typically unable to see the most suspicious areas of the prostate, so we end up sampling different parts of the prostate that, statistically speaking, are more likely to have cancer," Dr. Parsons said. "MRI is a game-changer. It allows us to target the biopsy needles exactly where we think the cancer is located. It's more precise."
Fewer lesions will be missed with MR imaging, especially in the anterior portion of the prostate, which is difficult to reach during a biopsy, Dr. Karow said.
Radiologists, Urologists, Must Collaborate
For radiologists, the MR-guided technology doesn't require a drastic change, Dr. Karow said. After the MRI, the radiologist identifies regions of interest and contours any suspicious areas. The real departure occurs when these data are transferred to the urologist who now sees an MR-fused image on a biopsy device.
This technique won't be used for every prostate biopsy, Dr. Parsons said. Initial biopsies will still be performed using the traditional procedure in which urologists draw 12 to 15 samples from the patient's prostate. The MR-overlay technique will more likely be used in cases when initial biopsy is negative but a patient still shows cancer symptoms or when urologists are monitoring a tumor over the long term.
Urologists "are not to the point where we feel comfortable" using only the MR overlay, Dr. Parsons said, adding that trials in Europe will determine whether the MR-overlay technique should replace the systematic procedure.
Introducing the MR imaging technique requires communication between both specialties as well as an expert in prostate MR, Dr. Parsons said. "You really need to be talking to each other to make this work. You need a team approach," Dr. Parsons said.
UCSD Continues MR Imaging Innovation for Prostate
In addition to using MR imaging to help target biopsies, UCSD radiologists have developed an MR technique that further aids prostate cancer detection. Using an innovation to better detect brain cancer co-invented by Anders Dale, Ph.D., UCSD professor and vice-chair of research, and Nate White, Ph.D., assistant professor of radiology, radiologists teams up with Dr. Karow to adapt the technique for prostate cancer detection.
"It's something we developed in our lab in the last two years, and we successfully translated it into clinical practice," Dr. Karow said.
The technique, called restriction spectrum imaging (RSI), is an advanced diffusion-weighted technique based on intracellular restricted motion of water in cancer cells, Dr. Dale said. (See Web Extras to access their recently published research on prostate RSI-MRI).
"RSI really shows a very robust signal in the tumor areas," Dr. Karow said. "Preliminary evidence suggests RSI improves detection over conventional perfusion and diffusion imaging and does not suffer from the spatial distortions intrinsic to existing diffusion MRI methods."
Web Extras
Drs. Karow, Anders and Parsons are contributing authors on recent Restriction Spectrum Imaging-MRI research:
"MRI-derived restriction spectrum imaging cellularity index is associated with high grade prostate cancer on radical prostatectomy specimens," in the February 2015 issue of Frontiers in Oncology, Journal, Frontiersin.org/article/10.3389/fonc.2015.00030/abstract
"Novel Technique for Characterizing Prostate Cancer Utilizing MRI Restriction Spectrum Imaging: Proof of Principle and Initial Clinical Experience with Extra-Prostatic Extension," January 2015 issue of Prostate Cancer and Prostatic Diseases, Nature.com/pcan/journal/v18/n1/full/pcan201450a.html