Patient-specific Dose System Moves Closer to Reality
One researcher set out to create a dose-reporting system that provides estimates of radiation dose and potential cancer risk index specific to each patient and each CT exam
BY BETH BURMAHL
September 01, 2014
---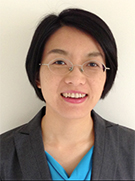 ---
While CT dose index (CTDI) and size-specific dose estimates (SSDE) for estimating and reporting patient radiation dose from CT are useful constructs, they share a common limitation that one researcher is working to overcome: lack of specificity.
"Current methods for estimating and reporting radiation dose from CT examinations are largely patient-generic; knowledge of organ dose, the best indicator of cancer risk, is not available for individual patients," said Xiang Li, Ph.D., an assistant physics professor at Cleveland State University. "Furthermore, current protocol designs rely on dose as a surrogate for the risk of cancer incidence, neglecting the strong dependence of risk on age and gender."
In keeping with the growing effort to manage and track CT radiation, Dr. Li set out to create a dose-reporting system that provides estimates of radiation dose and potential cancer risk index specific to each patient and each CT exam. With the aid of a 2011 RSNA Presidents Circle Research Resident Grant, Dr. Li, then an imaging physics resident at Duke University Medical Center, launched the pilot phase of a research project that laid the foundation for her long-term goal of enabling patient-specific organ dosimetry (radiation dose and cancer risk index) for the entire spectrum of pediatric and adult CT exams.
"Such a system could guide individualized protocol optimization," Dr. Li said. "For patients who undergo sequential exams, knowledge of dose and risk may also aid in deciding exam frequency."
Under the supervision of two scientific advisors at Duke University Medical Center, Donald P. Frush, M.D., a professor of radiology and pediatrics, and Ehsan Samei, Ph.D., a professor of radiology, biomedical engineering, and physics, Dr. Li assessed organ dose and dose conversion coefficients for a wide range of clinical CT protocols. The research employed a database of digital human models created from clinical CT images. Monte Carlo programs were developed to accurately model CT systems and simulate organ dose for each human model and clinical protocol.
"For each protocol, we sought to determine the conversion coefficients from reference dose quantities (for example, CT dose index and dose-length product) to patient dose quantities (organ dose, effective dose and risk index). We further sought to correlate conversion coefficients with patient size, age and gender," Dr. Li said.
Dr. Li's research yielded a number of important findings, including the discovery that organ dose and effective dose conversion factors are exponential functions of patient diameter. Additionally, for a given gender, the risk index conversion factor is an exponential function of both diameter and age. Obesity also has a significant effect on dose and risk conversion coefficients that cannot be predicted using body diameter alone, research showed.
Among the most important outcomes, Dr. Li said, is the finding that SSDE is not an effective surrogate for organ dose and that it generally overestimates organ dose for obese patients.
"This finding is important because it highlights the need for more accurate and rigorous methods for assessing organ dose from CT scans," Dr. Li said. "Organ dose is the best indicator for the cancer risk of CT radiation."
"Through Dr. Li's systematic integration of patient specific-factors of age, gender and morphology, with detailed application of patient-based modeling of organ size and distribution and radiation exposure and dosimetry, we are gaining a much more detailed and relevant understanding of the limitations of some current dose and risk estimations, and tools that afford a more personalized approach to CT performance," Dr. Frush said.
RSNA Grant Spurs Further Research
Dr. Li's preliminary results suggested the feasibility of estimating patient-specific dose and risk index in both pediatric and adult patients for various clinical CT protocols. The findings were the basis for larger studies with the goal of enabling a system of patient-specific dose estimation and reporting in CT. Her research, "The Effects of Protocol and Obesity on Dose Conversion Factors in Adult Body CT," was published in the November 2012 issue of Medical Physics and was awarded the Farrington Daniels Award for Best Article on Radiation Dosimetry in 2012. Another study that grew from this RSNA grant, "The Impact on CT Dose of the Variability in Tube Current Modulation Technology: a Theoretical Investigation," has been accepted for publication by Physics in Medicine and Biology.
A third study co-authored by Dr. Li, "Dose Coefficients in Pediatric and Adult Abdominopelvic CT Based on 100 Patient Models," was published in the December 2013 edition of Physics in Medicine and Biology.
Dr. Li said her RSNA grant has been invaluable to jumpstarting additional research that could eventually aid patients in a number of critical ways. Tracked over time, patient-specific dose estimates would allow the establishment of cumulative dose profiles for individual patients, while individual dose profiles could facilitate clinical decision making—especially in patients who require repeated imaging and who are genetically more radiosensitive. The research could also improve the accuracy of software applications for mobile devices developed for estimating and tracking patient dose, Dr. Li said.
In addition, "patient-specific organ dose can be combined with patient-specific image quality to establish the tradeoff between the two for patients of various body sizes," Dr. Li said. "Such a quantitative tradeoff of 'benefit' versus 'risk' provides the most solid basis for designing size-based CT imaging protocols."
When realized, Dr. Li said, the research aims achieved through her RSNA grant "will not only contribute to the scientific knowledge of radiation in medical imaging, but also directly to the care, safety and management of patients."
Grants in Action
Name:
Xiang Li, Ph.D.
Grant Received:
RSNA Presidents Circle Research Resident Grant
Study:
"Patient-specific Dosimetry in Pediatric and Adult Computed Tomography"
Career Impact:
"The RSNA grant has a significant influence on my career development," Dr. Li said. "Applying for the grant familiarized me with the grant application process including preparing the written materials, developing a budget and interacting with grant administrators. Further, the grant provided me with the opportunity to continue my line of research and gave me the confidence to seek funding from other sources. Most importantly, it boosted my research aspirations and my desire to pursue an academic career."
Clinical Implication:
"The work supported by the RSNA grant is an essential step towards achieving patient-specific organ dosimetry in routine clinical practice of medical imaging," Dr. Li said. "Patient-specific dose estimation and reporting are the most effective means to promote responsible use of ionizing radiation and increase accountability. They further allow cumulative dose recording for individual patients to facilitate clinical decision making, especially in patients who require repeated imaging."