RSNA's EdCentral Transforms the Way You Learn
New platform offers convenient, customizable access to RSNA's online education offerings
---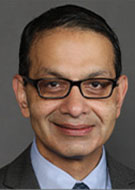 ---
RSNA has introduced EdCentral, a new learning management platform that will save time and change the way members access RSNA's online educational content, including articles from Radiology and RadioGraphics, two of the Society's peer-reviewed journals.
EdCentral is a centralized, easy-to-navigate learning hub that features an intuitive interface and search capabilities. Designed to function like popular video streaming services that offer curated, customizable content based on individual preferences and prior activity, EdCentral provides each learner with a uniquely tailored assortment of learning opportunities.
"This new platform was developed to address feedback RSNA has received from members who rely on RSNA for their educational needs," said Sanjeev Bhalla, MD, RSNA Board of Directors liaison for education. "Like Netflix or Amazon, EdCentral uses an algorithm that will curate content according to your interests and will let you know when new materials related to those interests become available on the system."
Building a Learning Community
To get started, users will log in to EdCentral and begin building a profile by selecting areas of interest from an array of available topics that include radiology subspecialties, imaging modalities, AI and other non-interpretive study areas.
The EdCentral home page has a convenient dashboard where you see content you have consumed or bookmarked, highlighted content recommended by the users you follow and other featured and trending content.
On the platform's profile page, users can manage interests, groups, channels and learning progress, and develop a skills passport where they can list their skills, credentials and accomplishments.
"One of the really nice EdCentral features is the community aspect," Dr. Bhalla said. "Not only can you follow key people, like our journal editors, and see what they are recommending, but you can also 'like' content that you think may be valuable or interesting to your peers. You will also see which topics are trending among other learners."
Users will receive alerts when new, relevant content is available on the system and can adjust their preferences to make sure their feed changes as their interests and needs change. The more EdCentral users engage with the platform, the more customized their content suggestions will be.
All the Quality Content, All in One Place
While EdCentral will change how members locate RSNA learning opportunities, Dr. Bhalla emphasized that members will still have access to the same high-quality content, including live events, didactic lectures, journal articles, case-based learning, YouTube videos, sessions from RSNA annual meetings and independent, self-learning programs. They will also be able to easily access and print CME certificates.
Ongoing plans for the robust new platform include building on its foundation to benefit users through future expansion and enhanced functionality.
"I recommend you make EdCentral part of your daily web rounds," Dr. Bhalla said. "We have developed a really useful tool that will enhance your daily education while making it more enjoyable. You're going to want to take advantage of it."
For More Information
Learn more about EdCentral.