RSNA Updates Its Position Statement on Screening for Breast Cancer
Statement continues support for annual mammography beginning at age 40
---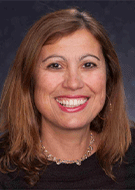 ---
RSNA updated its Statement on Screening for Breast Cancer, recognizing new recommendations from the American College of Radiology (ACR) and the United States Preventive Services Task Force (USPSTF). RSNA continues to support the ACR and Society of Breast Imaging recommendation for annual mammography screening beginning at age 40 in order to save the most lives from breast cancer.
In updated breast cancer screening guidelines, ACR lowered its recommended age for women at increased risk to be assessed for earlier screening from age 30 to age 25.
"The ACR recommends that the patient at average risk for breast cancer gets screened with mammography starting at age 40 and yearly thereafter with no upward limit, as age should not be a factor of when a patient stops screening instead of their overall health and other co-morbidities," said Stamatia V. Destounis, MD, chair of the ACR Breast Commission and a member of the RSNA Public Information Advisors Network. "The ACR guidelines speak specifically for the high-risk patient because of family history of breast cancer, and or dense breast tissue as these are groups that the USPSTF fails to recommend any supplemental screening."
In a draft statement released this week, the USPSTF recommends biennial screening mammography for women ages 40 to 74 years. The revised recommendation concludes that "the current evidence is insufficient to assess the balance of benefits and harms of screening mammography in women age 75 years or older." The USPSTF is accepting public comment on the statement through June 6.
"The new Breast Cancer Screening Guidelines from USPSTF do not go far enough in their recommendation for breast cancer screening," said Dr. Destounis, Managing Partner at Elizabeth Wende Breast Care, LLC. "Black women are 42% more likely to die of a breast cancer in comparison to white women and the USPSTF guidelines could exacerbate the disparities by allowing cancers in these high-risk women another year to advance."
The goal of breast cancer screening is to find cancer at a small size and early stage before it is large enough to cause symptoms or has spread elsewhere in the body. By finding cancers early, we reduce morbidity and mortality from this disease. Since 1990, the breast cancer death rate in the U.S., which had been unchanged for the preceding 50 years, has decreased by 43%, primarily due to screening mammography, according to 2015 National Cancer Institute Surveillance, Epidemiology, and End Results (SEER) data.
For More Information
Access the RSNA Statement for Screening on Breast Cancer.
Access the ACR breast cancer screening guidelines.
Access the USPSTF draft recommendation statement for breast cancer screening.