James E. Youker, MD, Dies at 94
Dr. Youker was a prolific researcher, master educator and an RSNA Gold Medal recipient
---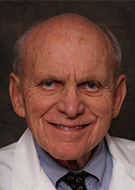 ---
A nationally recognized and respected radiologist and RSNA Gold Medal awardee (2000), James E. Youker, MD, died June 12, in Oconomowoc, WI. He was 94.
Dr. Youker received his medical degree from the University of Buffalo School of Medicine in New York. His radiology residency at the University of Minnesota, in Minneapolis, was briefly interrupted by two years of military service during which he was chief of radiology at a U.S. naval hospital.
Following his residency, Dr. Youker worked at the Medical College of Virginia, Richmond, the University of California, San Francisco, and the University of Lund in Sweden before being appointed chair of radiology for the Medical College of Wisconsin (MCW).
Dr. Youker remained at MCW for 45 years, helping build the institution's faculty organization, establishing the Departments of Radiation and Oncology and Biophysics, and serving on the board of directors and numerous committees.
In addition to earning the RSNA Gold Medal, Dr. Youker holds gold medals from the Association of University Radiologists, the American Roentgen Ray Society and the American College of Radiology. Nationally recognized and respected for his decades of leadership in the medical community, he served as president of the Society of Chairs of Academic Radiology Departments, the Wisconsin State Radiological Society and the American Board of Medical Specialties (ABMS) executive committee. Dr. Youker distinguished himself as the only radiologist to hold this leadership role at ABMS.
Dr. Youker was a dedicated supporter of the RSNA R&E Foundation and served as a member-at-large on the Foundation's Nominating Committee.
Among his many professional accomplishments, Dr. Youker was a prolific researcher who chaired the Conjoint Committee on Diagnostic Radiology at the National Institutes of Health, which enhanced research and education in radiology nationally. He received an MCW Medical Student Outstanding Teaching Award at age 90.
MCW established the James E. Youker Endowed Professorship in Radiology to honor Dr. Youker's many legacies.
A memorial service for Dr. Youker is scheduled for Wednesday, July 19.