Study Suggests Expanded Role for FDG PET in Melanoma Treatment
Baseline imaging parameters and response associated with overall patient survival
BY RICHARD DARGAN
June 15, 2023
---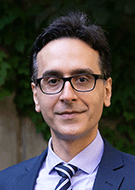 ---
Melanoma is the deadliest form of skin cancer. Historically, survival rates have been poor in patients whose disease has spread to other parts of the body, but the outlook has improved with immunotherapy treatments including those that combine the drugs Ipilimumab and Nivolumab (IpiNivo) to promote an immune response in the body.
"Immunotherapy has changed the outlook for melanoma," said Amir Iravani, MD, associate professor at the University of Washington in Seattle. "Still, there are a lot of patients who don't respond to it, and up to now, there hasn't been a way to know which patients would benefit more from treatment."
Imaging Used to Identify Prognostic Marker
Dr. Iravani is the lead author in a study published in Radiology looking at the use of baseline scan with 18F-fluorodeoxyglucose (FDG) PET/CT to predict outcomes in patients undergoing immunotherapy treatment. The research team studied FDG PET/CT, a well-established tool in staging melanoma and monitoring treatment, as a way to help identify patients who may respond to immunotherapy.
FDG-PET provides biomarkers like metabolic tumor volume (MTV) and total lesion glycolysis (TLG) that quantify the amount and intensity of tumor metabolism; however, little is known about the prognostic value of these biomarkers in the context of IpiNivo therapy.
In a study of1 22 patients with advanced melanoma undergoing IpiNivo treatment, Dr. Iravani and colleagues found that baseline MTV on FDG PET/CT scans was an independent prognostic marker. Furthermore, patients with progressive disease on the first follow-up FDG PET/ CT scans had a one-year survival rate of 35%, compared with 90% in the group without progression. Over two years, that survival rate fell to only 20% in the group with progression, compared with 83% in the progression-free group.
"We're hoping this demonstrates that baseline metabolic parameters need to be incorporated into the decision-making of the clinicians," Dr. Iravani said. "We would use these biomarkers in combination with others to prognosticate patients at baseline and stratify them to choose more intensified treatment for patients with higher volume disease compared to patients with lower volume disease. With software advances in automatic tumor segmentation, we hope this becomes more streamlined in all PET/CT reports."
The study findings also revealed a role for FDG PET metabolic parameters in treatment response assessment.
"What it's showing is that patients who achieved complete metabolic response tend to have a very good outcome," Dr. Iravani said.
Imaging Guides Longevity of Treatment
Additionally, the study results support the use of FDG PET in helping clinicians decide how long to continue immunotherapy—an important consideration given the not-insignificant treatment-related morbidity.
"The duration of treatment with immunotherapy in responsive patients is unclear, however, the longer the patients are on immunotherapy, the higher the chance of immune-related adverse events," Dr. Iravani said. "In this study, we showed that after one year, the physician can judge whether immunotherapy can be stopped in those who have achieved a complete metabolic response."
Because the study was done at a single center—the Peter MacCallum Cancer Centre in Melbourne, Australia—and was retrospective, additional research is needed. Key to optimal clinical implementation will be incorporating technology that allows for automatic entry of the FDG PET metabolic parameters into the radiology report, according to Dr. Iravani.
"The more streamlined this gets, the easier it is to apply it to a clinical practice while also allowing institutions across the world to incorporate all the data and arrange it in one repository," he said. "This will allow us to derive the exact thresholds of tumor volume, which clinicians can then use to decide on treatment or choose between treatments."
For More Information
Access the Radiology study, "FDG PET/CT Prognostic Markers in Patients with Advanced Melanoma Treated with Ipilimumab and Nivolumab."
Read previous RSNA News articles on FDG-PET:
Visit the RSNA Online Learning Center for learning activities related to FDG-PET.